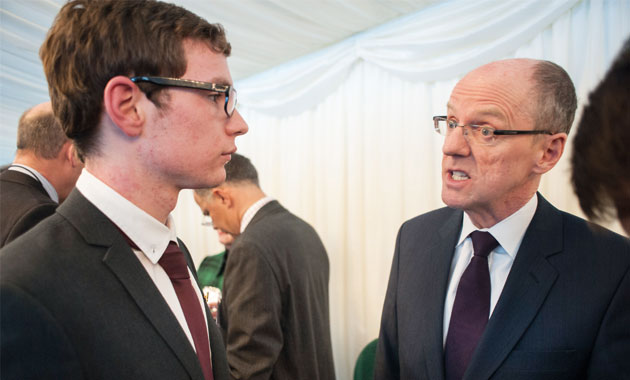 A 17-year-old learner put School Reform Minister Nick Gibb and Shadow Education Secretary Tristram Hunt on the spot as he called for VAT "justice" at a Sixth Form Colleges' Association (SFCA) parliamentary reception.
Callum Fairhurst, who is studying business, history and politics A-levels at Long Road Sixth Form College, in Cambridge, delivered a powerful speech at the event, aiming his final remarks directly at Mr Gibb and Mr Hunt, who were both in the audience.
Around 160 guests, including principals, governors and other MPs, heard Callum raise the key SFCA issue, with the government continuing to charge sixth form colleges (SFCs) VAT while schools and academies get a 20 per cent refund.
"Academies don't have to pay VAT and I think that's right. SFCs that attach to schools don't have to pay VAT and I agree with that," he said.
"It's not fair [that SFCs have to pay]. Nick, Tristram — if there is one thing you take from what I say, it should be that you need to drop the learning tax. What I'm asking isn't for a favour — it's for justice to be served."
Mr Gibb later told him: "We want to do something about it. The issue is how to fund it. It's an anomaly we would like to address, but it would be costly."
Mr Hunt also declined to provide a guarantee that his party would drop VAT for SFCs if it won the general election on May 7 when questioned after the student's speech by FE Week.
However, he had earlier told guests during his own address: "When we enter government we will immediately get to work to see if we can find the funds which I know bedevil your sector in terms of VAT. There's no logic to it, there's no defence of it."
James Kewin, SFCA deputy chief executive, said: "Callum was absolutely right to urge Mr Gibb and Mr Hunt to drop the learning tax — redirecting funding away from the front line education of students to pay VAT is nonsensical."
He added: "We now need all political parties to make a firm commitment to drop the learning tax."
The aim of the event, held in the House of Commons Terrace Pavilion overlooking the River Thames, was to celebrate the achievements of SFCs and provide a chance for networking between principals and governors.
It was hosted by Labour MP Kelvin Hopkins, chair of the all-party parliamentary group for SFCs and vice-chair of governors at Luton Sixth Form College. He called for more SFCs in his speech, which opened the event.
He said: "There are many wonderful SFCs, many of them represented here today. They do a brilliant job but are still not fully appreciated by government. That's why I hope the government and opposition members here today will take note.
"They should be nurtured and treasured by all who care about education and the success of our young people. I have argued that the government should, rather than just seeking to look after them, establish more SFCs and expand the sector."
David Igoe, SFCA chief executive, praised the achievements of sector staff.
He said: "You represent your staff who do such wonderful work for the 160,000 16 to 18-year-old young people being educated in SFCs at this moment.
"We outperform all other state funded and non-selected sectors on nearly every important indicator. We do it at a price and in a style that represents the very best value to the tax payer and the treasury."
But he warned: "This event is both an opportunity for celebration of our success and to issue a plea to policy makers for fairer treatment [over VAT payments] because you know and I know that we are in real danger now of being squeezed to breaking point."
The SFCA's Drop the Learning Tax campaign petition launched before Christmas and has been signed by more than 14,500 people including Oscar-winning actor Colin Firth, X Factor presenter Dermot O'Leary and Education Select Committee chair Graham Stuart.
And the event, on February 24, came the day after a House of Lords debate on the issue in which Baroness King said: "My Lords, is it not strange, not to mention unjust, that a 16-year-old studying at a secondary school receives more funding than a 16 year-old studying exactly the same subjects at a SFC [because SFCs pay VAT]?
"Is this not doubly strange when research shows that sixth form colleges provide better education outcomes and better value for money and do more to improve social mobility?"
And Skills Minister Nick Boles said he was prepared to discuss the matter with the "fierce" Treasury as he answered Mr Hopkins during an education questions session at the House of Commons in January.