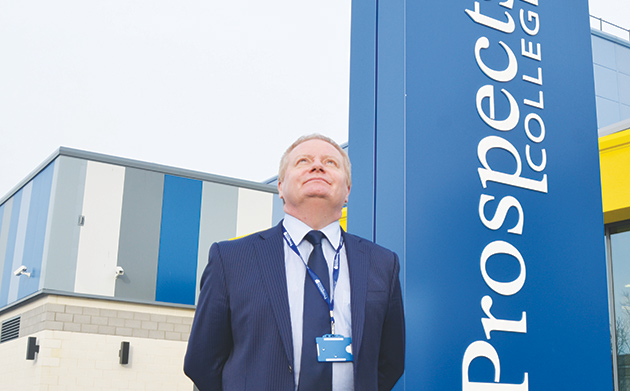 Official procedures to become an incorporated college have been described as "not fit for purpose" by the first person to have used them in more than two decades.
Neil Bates, who last year oversaw the process of his Essex-based Prospects Learning Foundation (PLF) becoming Prospects College of Advanced Technology (Procat), also said the two-decade gap since a new college "indicated a lack of dynamism in the sector".
He told FE Week, which exclusively revealed his plans just over a year before they came to fruition: "The 1992 Further and Higher Education Act [which still sets the rules for incorporation] is not really fit for purpose and the fact that there has not been a new FE college in 22 years suggests a lack of dynamism in the sector.
"We were particularly struck by the fact that neither of the funding agencies or BIS were really geared up to support new entrants or new types of provision."
His comments echoed the findings of the Department for Business, Innovation and Skills (BIS), which published a 'lessons learned' report on Monday (February 23).
It set out the requirements independent learning provider PLF met to become a college, including a good or outstanding Ofsted judgement, a business plan and a satisfactory provider financial assurance audit review.
It said: "This project was a first in the sector for over 20 years and so as the project developed we were clarifying legislation, regulations, policy and processes internally with PLF and in relation to obtaining ministerial approval.
"The project was also completed within a very short timescale (from the first project board meeting to incorporation was 10 months).
"The process has highlighted lessons learnt in two key areas — the process undertaken and the policy and legislation in place.
"The process currently in place for new incorporations and entrant funding may no longer be appropriate. This is being reviewed as part of a wider project assessing the longer term implications of government policy reform for the FE/skills provider market."
However, Mr Bates nevertheless praised the "excellent work of the BIS officials who worked with us to ensure a relatively smooth and fast incorporation".
The 2,000-learner provider was the first new incorporated FE college since 492 local authority-maintained institutions underwent the process in 1993 under the previous year's Further and Higher Education Act.
Julian Gravatt, assistant chief executive for the Association of Colleges, said: "It is important that new colleges build on the high-quality provision already available in the FE sector.
"The government's case study report on [the former] Prospects College could provide a useful road map for those interested in this option."
Association of Employment and Learning Providers (AELP) chief executive Stewart Segal said: "Unfortunately, Procat had to change from its Independent learning provider (ILP) status to get an extension to its direct contract, gain access to £1.6m capital and get the support of two research fellowships.
"Investment in providers should not be dependent on the organisational structure. We hope that BIS will learn this lesson when looking at National Colleges as well as the issues around the process."
A BIS spokesperson said no other ILP was currently undergoing incorporation.