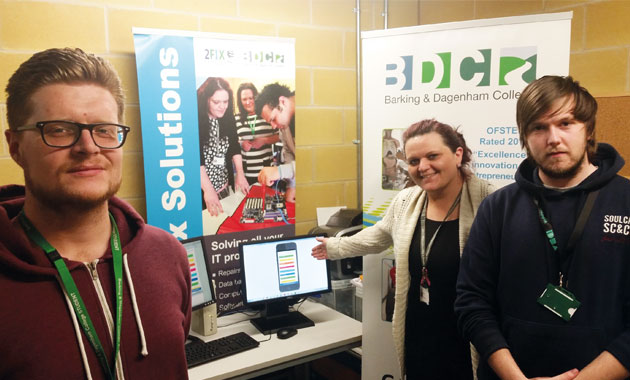 Two Barking and Dagenham College students used their IT skills learned in the classroom to help design an app aimed to save time for mental health doctors.
Working with North East London NHS Foundation Trust's (NELFT) medical education department, Mark Bewes and Sam Bowen, both aged 26 and on an access to IT courses, were commissioned to provide the technical platform to bring the new Doctors On Call Support (Docs) app to life.
The app can be accessed from any smart phone or tablet and replaces hundreds of pages of online guidance documents, including policies and procedures which are stored on the NELFT intranet and internet.
Mark said: "It has been a rewarding project because the NELFT Docs app has a valuable purpose. Giving students exposure to real client briefs is what makes the Barking and Dagenham College experience so different."
Main pic: Barking & Dagenham College students Mark Bewes, left, and Sam Bowen with mentor and manager of 2Fix Solutions (an IT business and shop at the college) Ellen Kerr