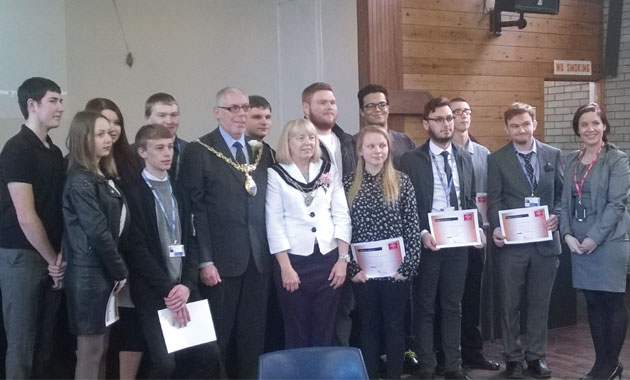 A team of once shy and unqualified students from St Helens College are conquering their self-esteem issues with a challenging community renovation project as part of their 12-week Prince's Trust programme, writes Billy Camden.
Thirteen learners who turned to St Helens College to overcome confidence issues have given a local parish church and hall a much-needed facelift.
Part of the college's Prince's Trust Team 70, the students picked up their paint pots and carried out extensive DIY work to freshen St Helens Parish Church and Hall.
The project, which was selected by the students, is part of the 12-week Prince's Trust self-development course and aims to build students' confidence, motivation and life skills.
Ellis Mooney, aged 20 and from Team 70, said: "The course has been a great opportunity for me to build up my self-esteem and develop new skills.
"Since leaving school I've studied on several courses but due to a busy home life I've not been able to commit myself to a course or career.
"After hearing about The Prince's Trust Team programme, I thought it would bring some discipline and direction into my life and it has done just that."
The programme also provides students aged 16 to 25 with the opportunity to gain recognised qualifications and to progress onto courses at the college.
Raluca Elena Huibah, 17, said: "I came to England in November after moving from my home country of Romania.
"I discovered the course while at the college's open evening and thought it would be a great way for me to meet new people, make friends and develop my English.
"I hoped the course would provide me with the opportunity to help the local community too and I'm hoping to start my A-level studies in September."
Paula Rowlett, team leader of The Prince's Trust Team 70, said: "The project was a complete success. The church committee now say the rooms are more usable and are now looking into the possibilities of how the hall could be hired out for more events."
The college programme started January 6 and is due to be finished on March 27, and Ms Rowlett says she has already seen a big change in the learners.
"The students have grown immensely since the beginning of the programme," she said.
"From the shy learners that came into their first interview, worried about how the programme will go and if they would really enhance their confidence, to them showing guests and the Mayor around the community project so confidently and professionally.
"Three students even gave a speech in front of the guests. I'm really proud of their progression."
She added: "They have realised that everyone has confidence issues in some way, also that you shouldn't judge a person on how they look and should get to know them first."
The team are now planning their final challenges including a sponsored walk.
Their achievements will be marked with a presentation evening held at the college March 25.
Main pic: St Helens College Prince's Trust Team 70 handover the renovated church