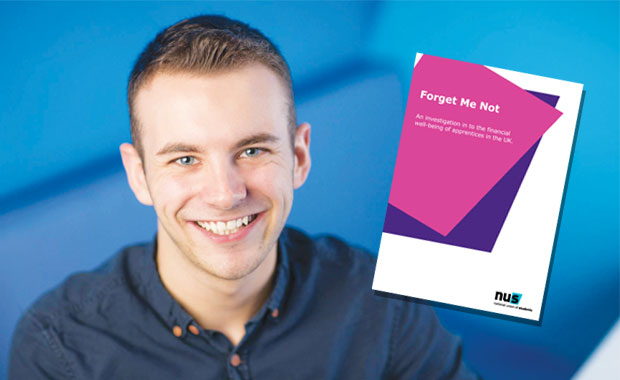 The National Union of Students (NUS) has issued a damning report on the issue of apprentice pay, branding the minimum wage of £2.73 an-hour "exploitative".
The 21-page Forget Me Not (pictured above inset) report paints a bleak picture of apprentice finances backed by the evidence of several case studies, including a 17-year-old named Sam who earns £95.55 a-week in the first year of his healthcare apprenticeship but, despite living at home, is left with just £40.76 a-week after meeting his travel, food and course costs.
Joe Vinson (pictured above), NUS vice president for FE said: "This report shows that we could have a whole generation being shut out of vocational education because of financial constraints. I hope that our report will trigger a serious investigation in to the financial well-being of apprentices and lead all political parties to commit to making apprenticeships more accessible for all.
"Nobody is talking about the everyday reality for individual apprentices — it's time we stopped talking about 'the other 50 per cent' and actually took action to fix the huge inequalities that exist between these types of education.
"Expansion of places just isn't good enough, and it's hiding the truth – we really need a new deal for apprentices."
The report highlights how the three main political parties have voiced their support for apprenticeships in the run-up to the general election in May, how funding for the programme has increased in recent years and employers will be incentivised to take on apprenticeships from April next year by not having to pay National Insurance contributions.
But, it says: "While employers are encouraged to employ more apprentices and the Government is ploughing money in to funding them, what is the situation for the individual apprentice? What benefits and funding sources does an apprentice have access to?"
The report calls for the government to scrap the apprentice minimum wage, arguing that learners "should be entitled to at least the national minimum wage for their age".
"The minimum wage for apprentices is exploitative and not enough to cover basic living expenses," it says.
The recommendation is covered in a section on pay, and further areas in which recommendations are made are travel, sick pay, family budget, childcare, bursaries and bank accounts.
It also recommended free transport for all 16-19 year olds, extending the bursaries available to students in FE to apprentices and called for banks to be encouraged to offer special accounts for apprentices, similar to those available for undergraduates.
"Apprenticeships are often framed as a chance to 'earn whilst you learn'. They supposedly offer a chance to gain a skill and a qualification whilst working in a 'real' job with a wage. Yet for many apprentices their low wages quickly disappear on travel, rent and food," the report says.
"The NUS believes that apprentices need a better system of support in place in order for them to properly afford to complete their course. Without this apprentices are being forced to take on extra work, borrow money or drop out altogether."
The NUS report comes two months after Apprenticeship Pay Survey 2014 showed how younger apprentices were being hit hardest by minimum wage non-compliance with nearly a quarter not getting the right pay levels last year.
It indicated that 24 per cent of apprentices aged 16 to 18 and learning at levels two and three were paid less than the apprentice minimum wage, which was £2.68 an-hour at the time of the survey, but rose 5p from October.
A spokesperson from the Department for Business, Innovation and Skills said it had "gone all out to support apprentices".
She added: "Our reforms mean that companies are getting people with the skills they need. And those doing apprenticeships can earn while they learn with careers in TV producing, accountancy or engineering – available to a degree level.
"To support our hard-working apprentices we recently proposed that they should get an extra £1 an-hour. We are waiting for the Low Pay Commission to get back to us on this idea. In the meantime, apprentices are earning an average of £6.79 to £11.63 an hour depending on their level of apprenticeship."