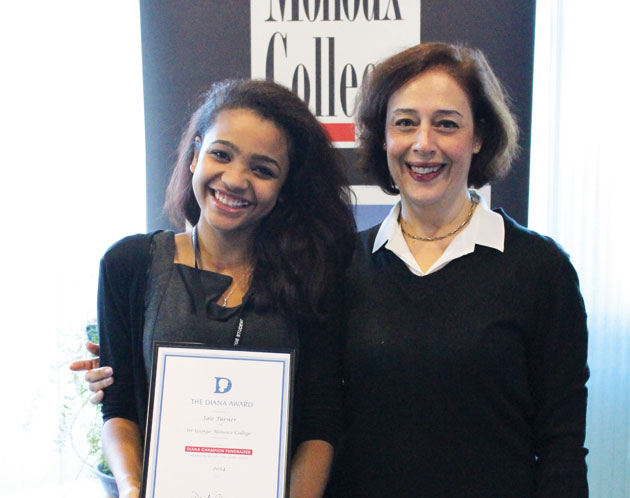 After a traumatic few years battling with more than just her own cancer, 18-year-old Jalé Turner from Sir George Monoux College has been recognised with the prestigious Diana Award for her charity work for Teenage Cancer Trust, writes Billy Camden.
An East London teenager's determination to turn her own terrifying brushes with cancer into a positive experience to benefit others has been honoured with a Diana Award.
Jalé Turner was diagnosed with thyroid cancer in 2013 — just a year after her sister, Sabrina, had recovered from ovarian cancer.
And the 18-year-old, who studies A-levels in performing arts, sociology and media studies at Sir George Monoux College, went on to raise more than £1,000 for the Teenage Cancer Trust following her own recovery.
She was honoured for her fundraising effort with a Diana Award last month after being nominated by dance teacher Baris Celiloglu.
"When I found out I won I was ridiculously shocked, I didn't expect to win. I started crying, Baris started screaming, I was pretty ecstatic and very honoured," said Jalé, vice president of her Walthamstow sixth form college's student union.
Jalé raised funds with a party in September 2014 that saw more than 90 guests with entertainment from the college's performing art students and other local talents, plus a raffle and games.
Ms Celiloglu said: "I nominated Jalé for a Diana Award because of her zest for life, commitment to her studies and passion for inspiring other young people. She is an incredibly resilient and determined young lady who has triumphed over great adversity."
Jalé's battle with cancer had started half a year after her sister, now 20, had recovered from her cancer.
After feeling symptoms, doctors told Jalé that she was just "stressed out", but when a lump appeared on her throat, they diagnosed her.
"It was really scary. At the time I was about to take my GCSEs and I was scared I wasn't going to be able to go to college," she said.
"In some way I think I had mentally prepared myself because I could feel what my body was doing and that something wasn't right. It reached a point where I was more relieved that we knew what it was and it could be treated.
"Once I knew my diagnosis I was 100 per cent sure that I was going to get through it and it was going to get sorted."
Jalé will now attend an award ceremony on March 10 as well as a concert on March 5 as part of the Diana Award where she will get the chance to meet patrons of the award, Prime Minister David Cameron and Prince Harry.
Ms Celiloglu said: "I am incredibly proud of her. Not only is she an extremely talented performer and an exemplary vice president of the student union but she has shown the world what can be achieved against all odds."
Jalé said: "If any students have a passion for something then I try and bring that to the college and figure out how to support them and get them to campaign and give them the chance to do what I have done."
Main pic:
From left: Learner JalŽ Turner and dance tutor Baris Celiloglu