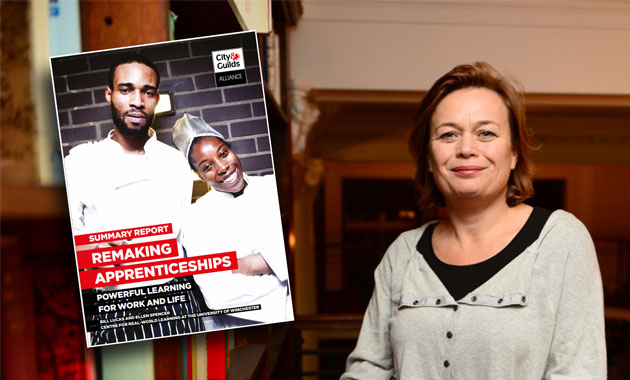 Apprenticeships should be "re-made" to give learners expertise, resourcefulness, craftsmanship, business-like attitudes and wider skills for growth, according to a report by the City & Guilds Alliance.
The Alliance has released its report Remaking Apprenticeships (pictured inset above), written by Professor Bill Lucas and Ellen Spencer of the Centre for Real-World Learning at the University of Winchester, which sets out five key recommendations (see below) for government, employers and providers so apprentices can reach six "outcomes".
The report calls for a shift in focus to improve teaching and a debate about the pedagogy of apprenticeships, along with accessible guidance for employers and providers on teaching and a push to ensure government documents include references to pedagogy.
Kirstie Donnelly, UK managing director of City & Guilds (pictured above), said: "We firmly believe now is the time to remake apprenticeships and that, if we take the right approach and embed learning and assessment at the heart of an apprenticeship, as well as ensure they are designed to meet employers' needs, we can ensure the UK's apprenticeship system can compete with the very best on the world stage."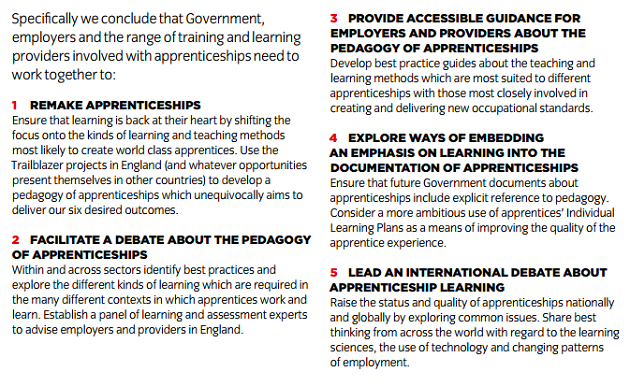 "This timely report is launched in the run up to a general election where both Labour and Conservatives have promised a huge increase in the number of apprenticeships.
"It proposes a series of practical tools to enable government and the vocational educational sector to work together to rebuild apprenticeships to ensure they become a top choice for both learners and employers in the future, equal to other learning routes in a status."
The City & Guilds Alliance also includes the 157 Group, the Association of Employment and Learning Providers (AELP) and the Centre for Real World Learning.
Stewart Segal (right), AELP chief executive, said: "Apprenticeships are now at the centre of skills development in the UK and therefore this report reinforces the message that high quality work-based learning is the most effective way forward.
"The report makes clear that both on-the-job and off-the-job learning should form a core dimension of an apprenticeship because the combination can help produce the desired job expertise, functional literacies and business-like attitudes required in a modern economy.
"We hope that the new standards being developed under the apprenticeship trailblazers will incorporate the report's key recommendations."