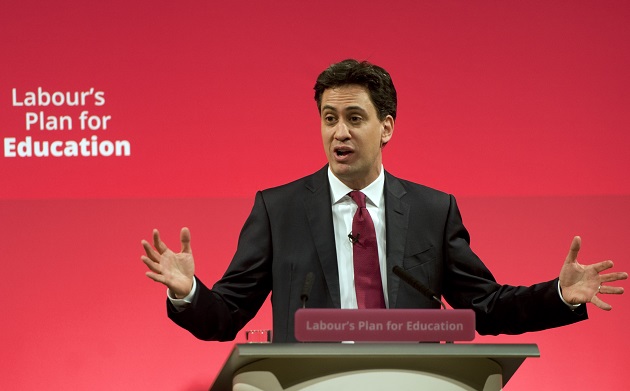 A Labour government would protect 16 to 19 education as part of plans to protect the entire Department for Education (DfE) budget, party leader Ed Miliband has announced.
Mr Miliband set out his party's policies on education for the May 7 general election in a speech at lunchtime today at his old school — Haverstock, a comprehensive in Camden, north London.
He raised sector hopes through the speech, in which he also said that a Labour government would address poor careers advice at schools and bring about a "revolution in apprenticeships", that Labour was going protect the entire FE budget including adult skills.
However, this turned out to be untrue.
Mr Miliband said: "If we are to act on the principle that education is a passport to success in life for individuals and our nation's economy we must be willing to invest in the early years, in schools and in FE.
"The next Labour government will protect the overall education budget, rising budgets protected in real terms every year, not cut as they will be under the Conservatives."
But a Labour spokesperson later said that Mr Miliband only meant that Labour planned to protect the entire DfE budget, including 16 to 19 education.
He was not, the spokesperson said, referring to Department for Business, Innovation and Skills (BIS) education funding.
Mr Miliband's spending commitment was still welcomed by FE sector leaders.
Martin Doel, chief executive of the Association of Colleges, said: "Ed Miliband's announcement that a future Labour government would protect education funding right the way through from 0 to 18 years old will be immensely reassuring and encouraging to young people and those charged with providing their education.
"Education and training of 16 to18 year-olds is too important to leave to chance.
"College and sixth form students have unfairly borne the brunt of funding cuts for far too long.
"Labour has recognised that in order to sustain and grow the economy our young people need to be supported in developing skills for the global workplace and be protected from future cuts.
"However, education funding still needs to be put on a more rational and stable footing and that's why the next government of whatever hue needs to prioritise a once in a generation funding review of how money is spent at each stage of education to ensure we can adequately educate and train all children and young people."
James Kewin, deputy chief executive of the Sixth Form Colleges' Association said: "This is an extremely welcome announcement that could throw a lifeline to the Sixth Form College sector. The Labour party has responded to the deep concerns of students, teachers and parents that sixth form funding has been cut to the bone over the past five years. Without real terms protection, some Sixth Form Colleges will close and others will only be able to provide an impoverished educational experience to students.
"This is an important step towards addressing the chronic underfunding of sixth form education. As young people are now required to participate in education and training until the age of 18, the current policy of ending funding protection at the age of 16 is absurd. As the Prime Minister confirmed last week that a future Conservative government would continue this policy, there is now a stark choice between the two main parties on sixth form education."
A spokesperson for the Association of Employment and Learning Providers said: "Apprenticeships, traineeships and study programmes for 16 to 18-year-olds are very important for producing the skilled young workforce that employers are now demanding, so we would be very pleased if the DfE's budget for these programmes was protected."
It came on the same day that the Liberal Democrats announced the party's five priorities for the next five years, which included guaranteeing education funding from nursery to 19-year-olds.
Sally Hunt, the University and College Union general secretary, said: "For too FE has had to bear the brunt of funding cuts. We are pleased that Ed Miliband has pledged the sector will not suffer the same plight under a Labour administration.
"The Liberal Democrats have also put further education at the heart of their election pledges and we now need to see more details from all parties on their plans for education."
The Conservative Party, which has so far only pledged to ringfence school funding, declined to comment on whether it would extend its commitment to 16 to 19 education.
Picture: Hannah McKay/PA Wire/Press Association Images