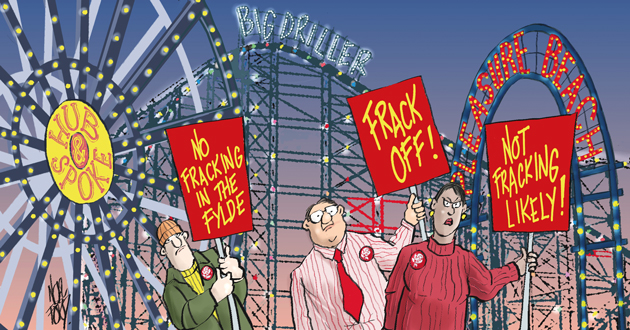 Leaders of the new National College for Onshore Oil and Gas have played down the possibility of a local council vote against a fracking proposal affecting their plans.
Bosses at United Kingdom Onshore Oil and Gas (UKoog), whose National College will be based at Blackpool and the Fylde College, saw a cross-party group of MPs fail in their bid to ban fracking a fortnight ago.
But they now face a wait of almost two months to find whether Lancashire County Council members follow the advice of their planning officer and throw out proposals from shale gas explorer Cuadrilla for new wells in the Fylde.
A Blackpool and the Fylde College spokesperson said it would not be commenting until a decision on the application had been made, but UKoog said the ruling — deferred by councillors on January 28 — would have no impact on plans to develop the National College in the area.
The council planning officer's report on Cuadrilla's proposals read: "It has not been satisfactorily demonstrated that noise impacts would be reduced to acceptable levels and would therefore unnecessarily and unacceptably result in harm to the amenity of neighbouring properties by way of noise pollution."
A Cuadrilla spokesperson said it had developed "mitigation measures" to deal with the noise while a consultation on the new proposals was being carried out.
The local general FE college was designated as the National College "hub" in November, with other colleges, including Portsmouth's Highbury College operating as "spoke" sites.
The college is expected to provide qualifications from A-level equivalent up to postgraduate degree level, and train teachers and regulators. It will also accredit training and academic courses run by other institutions.
And Corin Taylor, senior adviser at UKoog, said the MPs' vote against a fracking ban highlighted the need for the National College.
"MPs overwhelmingly rejected proposals for a moratorium on shale gas development, which means that the industry can proceed with the process of finding out how much gas we can recover from the shale deposits beneath our feet," she said.
"This underlines the need for the National College, headquartered in Blackpool, which will be an exciting development for the UK and Lancashire in particular."
The ban proposal was rejected by 308 votes to 52, but the government accepted a second amendment to the government's infrastructure bill by Labour imposing 13 extra controls on when fracking can be carried out.
If the bill is approved by the House of Lords and passes, the restrictions on fracking in the future will include a range of new checks of the structural integrity of gas wells and their potential impact on the surrounding environment.