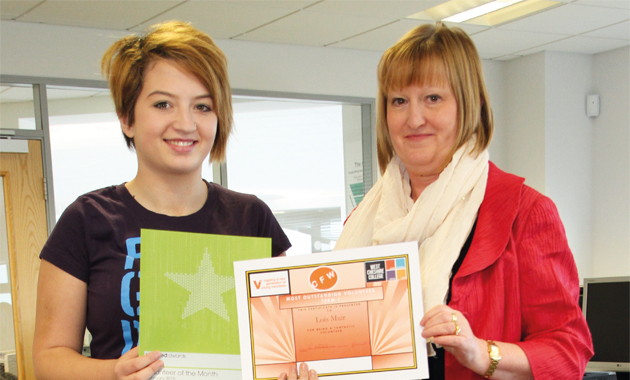 Volunteer work has paid off for West Cheshire College 19-year-old Lois Muir with two awards and a newfound confidence despite a difficult school background, writes Billy Camden.
Just over 12 months ago Lois Muir thought a troubled school life would be repeated at college — but she was pointed towards the Prince's Trust and volunteering and has not looked back since.
The 19-year-old West Cheshire College learner did 400 hours' volunteering as part of the programme and is now team leader for youth volunteer organisation vInspired and a youth worker with a local club.
She is also a volunteer officer at the college, where she is doing a level two BTec certificate in business.
The result has been double award joy with a Volunteer of the Month honour from vInspired and Volunteer of the Term from the college.
"If someone told me a year ago I would be volunteering I would have laughed at them because I didn't even believe in it," she said.
"For the first time in my life it feels like I've achieved something and I'm proud to help others as well because I know what it is like because I was in similar situations. I can now, for the first time ever, see a future for myself."
And it was a future that appeared bleak until a West Cheshire College adviser helped.
"Ever since I was younger I've always been that misbehaving and attention seeking child. I just wouldn't respect anyone," said Lois.
"I've always struggled with undiagnosed depression and my behaviour problems have always been bad. I mainly put my past down to me as an individual."
She added: "A year ago I went on the Prince's Trust team programme after it was suggested to me by an adviser from the college, Lorraine Murray.
"Once I finished the course I turned my life around after tallying up nearly 400 hours of volunteering work."
The Prince's Trust, a programme supporting 13 to 30-year-olds who are unemployed, struggling at school and/or at risk of exclusion, was completed by Lois as a 12-week course ending mid-April last year.
"I wasn't that keen on it, and once I started, after getting through a few ups and downs, by the end of it I realised how much it had helped me," said Lois.
"It not only changed my life but it saved my life."
Since completing the programme, Lois has continued helping others and now works mainly with young people.
In her role at the college she goes around campus promoting volunteering as well as being involved in community meetings.
Lorraine Murray, team leader for the careers, finance and welfare team at West Cheshire College, said: "I have seen an amazing change in Lois over the past year. Following her time with the Prince's Trust Programme she has turned into an inspirational young lady.
"I am immensely proud of her, she has a new-found confidence and self-belief that drives her to help others while achieving her own goals.
"I am delighted that her hard work and commitment has been recognised and I wish her all the success and luck for her future adventures."
Main pic: From left: Lois Muir being awarded her volunteering awards by Caroline Fidmont, Vice Principal of Quality and Purpose at West Cheshire College