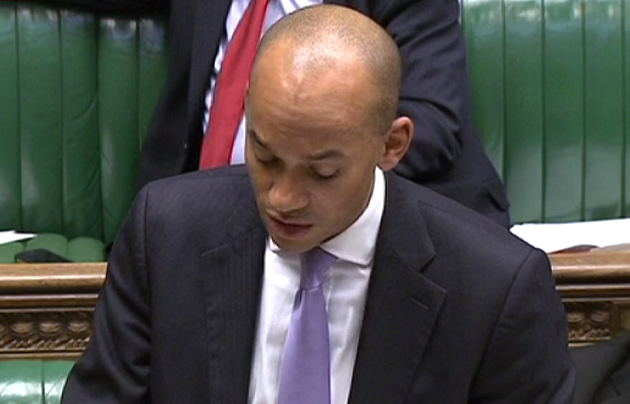 Labour this afternoon lost a House of Commons vote on plans to scrap apprenticeships of less than two years' duration and below level three.
Following a heated opposition day debate in Parliament, a vote on a motion calling for the new standards was defeated 294 votes to 218.
The motion, submitted in Labour leader Ed Miliband's name and supported by Shadow Business Secretary Chuka Umunna (pictured) and Shadow Skills Minister Liam Byrne, was criticised by government ministers and MPs who accused the opposition front bench of "dismissing" level two apprenticeships.
But Mr Umunna said: "It is not to devalue them, it is frankly to bring them up to the same benchmarks as our competitors who are more productive than us."
He said his proposals were not about doing away with lower level apprenticeships, but re-branding them. He also said he would give local councils more power over apprenticeships, including over enforcement of the minimum wage.
Responding on the minimum standards issue, Business Secretary Vince Cable said: "I think there is an important point about levels. I think the honourable gentleman dismissed too easily the value of level two apprenticeships.
"He seemed to imply that these were not quite apprenticeships, but actually there is quite a lot of statistical evidence that people who do a level two apprenticeship and no more have significantly higher earnings than people who don't go through that channel.
"I think the figure is 11 per cent over a three to five-year period. There are a lot of very import trades, bricklaying for example, where a level two is a valuable progression into a badly-needed occupation.
"So although he's right that we should be moving up the level chain, and we should be doing that, I don't want him or anybody else to devalue level two qualifications or to eliminate them from the camp."
As well as calling for the proposed minimum standards to be implemented, the defeated motion also called for concern over the fact apprenticeship starts among 19 to 24-year-olds has fallen by 6,270 in the past year and called on the government to use money already spent on procurement to require suppliers for large government contracts to offer new apprenticeship opportunities.
Mr Cable used the debate to defend the government's record, and said he had acted to protect FE spending as much as possible in the early days of the Coalition Government, despite having to take a "political hit" after raising tuition fees for university students.
He said: "When I came into office I was told that there were plans by his government had they returned to office to cut my department's budget by 25 per cent. That was all very clear, and indeed we've had to confront that.
"This is a budget which is dominated by higher education and adult skills. The advice I got, particularly from opposite in a particularly shrill and angry way, was 'you must give priority to undergraduates'.
"Had we followed the advice we would have had to cut the ASB by about 40 per cent. Within that we would have had to cut apprenticeships even more because they're more expensive than other forms of training."
"I then made a decision which I think was one of my better decisions which was to listen to the advice, to reject it and do the exact opposite. We took a serious political hit on higher education but did the right thing and we made the decision to invest more and not less in apprenticeships."