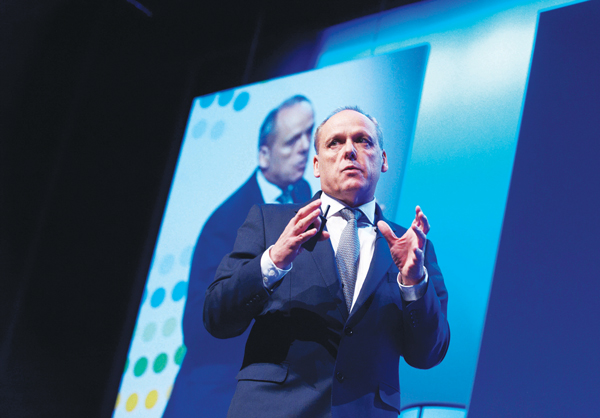 A report for the Local Government Association (LGA) claiming more than £800m of public money went on teenagers who dropped out of post-16 education "shines a light on failing careers advice in this country," Association of Colleges chief executive Martin Doel (pictured above) has said.
Analysis for the LGA by the Centre for Economic & Social Inclusion (CESI) claims the cost to taxpayers of education and skills provision started in 2012/13 but not completed was £814 million – 12 per cent of all government spending on post-16 education and skills.
According to the estimates, this was made up of £316m from AS and A-level, £302m from FE and  £196m from apprenticeships and prompted Coun David Simmonds (pictured right), chair of the LGA's children and young people board, to blame a "centralised bums on seats approach".
But Mr Doel said there could be many reasons for young people not finishing their course and, like Mr Simmonds, pointed towards careers guidance reforms as part of the solution.
"Further education colleges educate and train over 830,000 16 to 18-year-olds every year and the LGA's report confirms that FE student retention rates have improved markedly in recent years," said Mr Doel.
"Colleges provide a tailored learning experience which is constantly developing to meet current and future local needs with expert teachers, industry-standard facilities and a close on-going relationship with local employers of all sizes.
"College student success rates, a combination of retention and achievement, are 86.7 per cent. This is a remarkable achievement.
"The reasons why some young people don't finish their course are complex. Sometimes they get a job and therefore leave education. They might also change course which the data doesn't necessarily take account of.
"Funding for 16 to 18-year-olds has faced significant reductions too, particularly the abolition of the Education Maintenance Allowance in 2011 which supported young people through their education.
"In addition there are outdated policies resulting in poor careers advice and growing transport costs."
He added: "This report shines a light on failing careers advice in this country. We would like to see the establishment of careers hubs in every local area supported by schools, colleges, universities, local councils, employers and Jobcentre Plus to ensure that everyone has access to the high-quality impartial advice they deserve."
The 27-page CESI report, entitled Achievement and retention in post-16 education, claims the £800m-plus figure consists of 178,100 young people, of which 92,000 were withdrawals in schools, primarily for AS and A-levels; 61,900 estimated withdrawals in FE; and 24,200 who did not complete apprenticeship training.
It further claimed that apprentices were most likely to drop out, with one-in-four doing so, then FE at one-in-10 and also AS-levels at one-in-10, and then A-levels at one-in-20.
Coun Simmonds said: "Councils want every young person to achieve their full potential but too many are still dropping out of post-16 education and training or not achieving a passing grade.
"Our analysis lays bare the substantial financial cost of this but the human cost is even greater with youngsters left struggling with uncertainty, a sense of failure and facing tough decisions about what to do next.
"Councils are having success in helping young people that do drop-out back into learning but fear a failure to reform the centralised 'bums on seats' approach to funding further education could leave too many teenagers at risk of dropping out or without the skills needed to get a job.
"Local councils, colleges, schools and employers know how to best help their young people and should have devolved funding and powers to work together to give young people the best chance of building careers and taking jobs that exist locally."