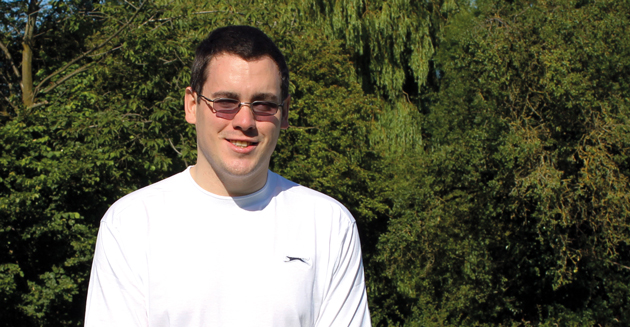 A Gloucestershire College worker who has cerebral palsy takes on his third fundraising charity challenge this month, cycling 100 miles in a day in aid of the Mind mental health charity, writes Billy Camden.
A determined fundraiser from Gloucestershire College will embark on his toughest event yet when he aims to raise £200 for mental health charity Mind by cycling 100 miles in a day.
Helpdesk and booking clerk worker Owen Thomas, aged 26, who suffers limited mobility having been born with cerebral palsy in his legs, wants to travel the equivalent of 161 times around a velodrome on a static exercise bike at GC Gym, at the college's Cheltenham Campus.
He has previously walked from Gloucester to Stroud to raise money for the Brittle Bone Society and trekked 30.7 miles from Stroud to Gloucester to Tewkesbury in aid of Cancer Research UK.
And his latest effort is due to take place on February 16, after enlisting the help of current students to design posters promoting the challenge.
"The college has been absolutely amazing, everyone has been incredibly supportive and aided me in getting a reach out there," he said.
"I've always said this isn't a personal publicity thing for me, it is about getting the right recognition for the charity and the college have been great in getting that message out to as many people as possible."
He added: "Each event I have done has escalated, I always aim to do more each time. I always want to set myself challenges and also send out the message that I don't get held back by my disability.
"I won't let it hold me back or dictate me."
And Mind is a charity close to his heart.
"The charity is close to my beliefs. Some of my friends and family, as well as some of our most prominent visionaries and famous faces have suffered with depression, including Virginia Woolf, Stephen Fry and the late Robin Williams," said Owen.
"But depression is still seen as a taboo subject because of a lack of understanding and knowledge. My message is this: please don't be ashamed or scared to reach out and please seek help and advice.
"There are many people and charities like Mind that can help you."
He added: "I want to raise awareness for and dispel the myths surrounding an illness which affects so many people, and hope the people of Gloucestershire will get behind me. If my cycling challenge inspires just one person to seek help, it will all be worth it."
Owen is himself a former student of Gloucestershire College, where he studied A-levels in history and English literature and language and retook his GCSE in maths.
Shelly McCatty, public relations and copywriting executive for Gloucestershire College, said: "We are all incredibly proud of Owen for taking on such a tough challenge to raise awareness and money for Mind. His enthusiasm and fundraising supports the college's values.
"We hope that people come along to cheer Owen on and donate to the cause, and wish him the best of luck for the big day."