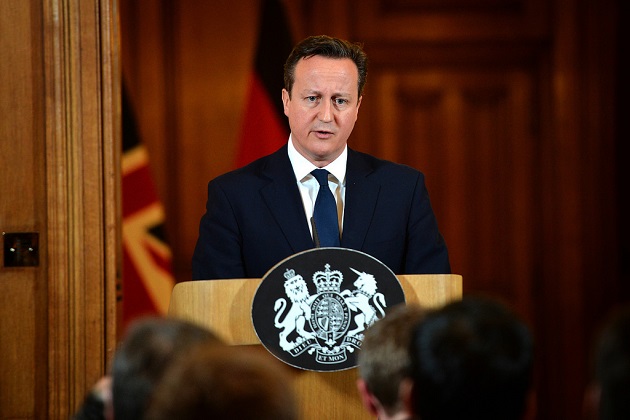 A decision by the Conservative Party not to pledge the same funding protection for FE as is afforded to schools has been labelled "disappointing" and "disgraceful" by sector leaders.
The Prime Minister this morning used a speech at a school in Enfield, North London, to confirm that the ringfence, which has been in place around the education budget for five to 16-year-olds since 2010, will continue if his party remains in office after May 7.
But the Association of Colleges (AoC), Sixth Form Colleges Assocaiton (SFCA) and Association of Employment and Learning Providers (AELP) have criticised the decision to exclude funding for 16 to 18-year-olds from the ringfence once again.
AoC chief executive Martin Doel said: "Today's announcement by the Prime Minister to ringfence the schools budget is good news for schools but is desperately disappointing for sixth form and further education colleges which between them educate over 830,000 16 to 18-year-olds.
"This leaves college students extremely vulnerable to huge cuts in the next Parliament and we strongly appeal to the Prime Minister to think again before risking the education and training opportunities of thousands of young people.
"We fail to see why, when everyone has to stay in education or training until the age of 18, this age group continues to be treated less favourably than their young counterparts. Investment in earlier years will be wasted if 16 to 18-year-olds continue to receive 22 per cent less than 11 to 16 year olds.
"We would urge the next government to prioritise a once-in-a-generation funding review of how money is spent at each stage of education to ensure we can adequately educate and train all children and young people."
SFCA deputy chief executive James Kewin said: "This is a disgraceful decision. Sixth form colleges have been subjected to savage and disproportionate
funding cuts since 2010.
"This announcement is a clear signal that we should expect more of the same from a future Conservative administration. This will disproportionately affect sixth form colleges as they do not have the ability to cross subsidise from the more generous funding available for pre-16 students.
"Protecting school students by punishing college students (who are more likely to have lower levels of prior attainment and come from more disadvantaged backgrounds) is an act of educational and economic vandalism. The government needs to wake up to the crisis in sixth form funding, which risks damaging the prospects of young people at what is a vital time in their education."
AELP chief executive Stewart Segal said: "After the Prime Minister said last week that the desired increase in apprenticeships would not be financed from within the existing adult skills budget but with additional funding, our hope is that government investment in non-apprenticeship provision to improve adults skills will be safeguarded, knowing that a sustained economic recovery is dependent on addressing skills shortages.
"For 16 to 18 year olds, we need to protect funding across the full range of education and training options, backed up by impartial careers advice, if we are to avoid an increase in the NEET group and the costs associated with those teenagers who drop out."
In his speech, Mr Cameron said: "Good school places need money and we will make sure our schools are properly funded.
"Today, I can make this commitment about Conservative plans. We've demonstrated in the past five years that we can protect the schools budget while reducing the deficit and we will do so again."
Labour's Shadow Education Secretary Tristram Hunt has responded by saying the move will result in a real-terms cut over the next Parliament, but has not confirmed whether his party would protect FE funding.
The Liberal Democrats have pledged to protect education funding for learners up to 19 years old, but is yet to confirm whether or not FE's funding will be ringfenced on its own, or as part of the wider budget.