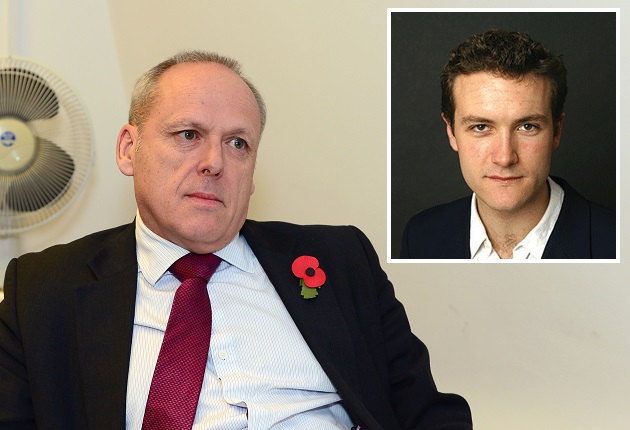 Association of Colleges (AoC) boss Martin Doel (above) has leapt to the defence of his members after a former Ofsted director and civil servant launched a scathing attack on colleges claiming "lots of them are frankly, rubbish".
Richard Brooks (inset, above-right), who was the education watchdog's director of strategy from September 2009 to August 2013 and previously a senior adviser to Ed Balls during his time as Education Secretary, made the comments at the Fabian Society's new year conference on Saturday.
Mr Brooks, now a freelance strategy consultant who authored a paper published by the Society in December entitled Out of Sight, about those not in education, employment or training (Neet), has been accused of making "unsubstantiated" comments by Mr Doel, the AoC's chief executive.
During a panel discussion at the conference, which also included Estelle Morris, who was Education Secretary from 2001 to 2002, Mr Brooks said improving FE provision was a key step in addressing the issue of Neets.
He said: "These people have been in full-time public education for 14 years, and we have failed to equip them with the skills and qualifications they need. It is a scandal, and it's not something we talk about enough.
"It's only 230 or 240 of these [FE] institutions, and lots of them are frankly, rubbish. They are huge public bureaucracies, sucking up public money and churning out young people who don't have the skills and qualifications they need. It's absolutely outrageous.
"The people who run them are paid always in excess of £100,000 a year. We should be angry about this, but because they're below the radar, they get away with it by saying 'these people are hard to help' and 'we're doing the best we can'. It's nonsense.
"They are failing to serve the very average-looking young people who want to get on in the way they should be served."
He said many young people were failing because they received bad advice from colleges, giving one example of learners told to do level two childcare courses without being informed they would need to have English and maths qualifications to study later at level three.
He said: "It's beyond a joke, and it happens to thousands of young people. They carry on their education on false promise this is going to lead them to where they want to get to, they get blocked because they don't actually have the core skills they need.
"When they go into beauty therapy at level two, when they go into motor mechanics at level two, it doesn't get them onto the apprenticeship they need or the level three courses they need. So they stay in education at 16 and 17 and they become Neet at 18. So the Neet rate is low at 16, low at 17 and doubles at 18."
Mr Doel said: "While the Fabian Society report is a considered piece of work with some sensible recommendations, Mr Brooks's spoken comments are unsubstantiated.
"Every year colleges educate and train over 830,000 16 to 18-year-olds. They offer some of the best professional and technical education with experienced teaching staff and industry-standard facilities supported by their local business community. Ofsted's annual report, published in December, showed 82 per cent of colleges achieved a good or outstanding grade despite a swathe of funding cuts.
"It is extremely disappointing to hear Mr Brooks criticising a sector that is giving our young people the employability skills they need to take their first steps in their career or continue to university. In fact much of what colleges achieve with young people is in spite of education policy rather than because of it.
"Good English and maths skills are vital but the influx of 16-year-olds needing to retake GCSE English or maths as a result of the government's new policy is going to prove challenging for colleges. For those unable to pass GCSE due to the way it is taught, we would like to see a post-16 qualification which teaches applied English and maths.
"To improve our education system at all levels, central funding needs to be allocated fairly across all education age groups. A once-in-a-generation review of education funding carried out by the next government is what's needed to ensure all young people have the opportunities they deserve."