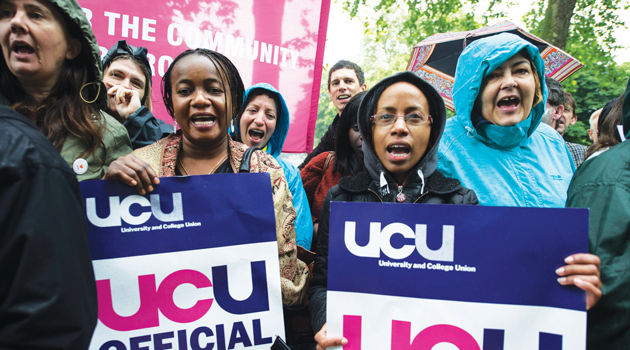 UPDATE – Monday, January 19, 2015
A drawn-out strike could be averted and one of the most long running FE employment disputes in recent memory brought to a close as union members consider an offer made by Lambeth College.
University and College Union (UCU) members at the London college walked out indefinitely today, but the row over contracts for new staff members could be over by the end of the week.
Members are due to meet on Wednesday at 4pm and UCU has urged them to vote to accept new proposals put forward by the college.
The row centres on contracts for new staff, which unions say would leave them with longer working hours, fewer holidays and lower sick pay.
In discussions last week the college offered to guarantee that existing staff would not be made to change to the new contract, even if they wanted to change their hours, as well as improving sick pay for the first year.
If UCU members accept the vote, they will return to work on Thursday.
UCU regional official Una O'Brien said: "Nobody wants to be on strike, but our members have been clear from the outset at how unhappy they were with the original contracts.
"We are pleased that there have been further improvements and we are recommending that members vote to accept the new deal when they meet on Wednesday."
Today's strike is the culmination of a series of escalating strikes throughout December and January.
It is the second indefinite strike in less than a year after UCU members walked out for five weeks in June, returning just before the summer holidays.
Lambeth principal Mark Silverman: "We welcome the recommendation from the regional team that the proposals should be accepted and the dispute ended.
"We have always been open to a reasonable resolution to the dispute which supports the improvement of teaching and learning, and assures our financial position. That is what the 'new' contract has always aimed to achieve.
"The college remains open to all learners and staff, with lessons continuing, and hopefully we can resolve this dispute imminently."
______________________________________________________
Lambeth College staff look set for their second indefinite strike over new contracts in less than a year — this time with the backing of a group of MPs who accused college management of "provoking" the dispute.
University and College Union (UCU) members at the college have taken part in a series of escalating strikes since early last month, due to culminate today (January 19) with open-ended industrial action.
Staff had walked out for five weeks in June, calling off their indefinite strike just before the start of the summer holidays.
They claim new contracts will leave colleagues with longer working hours and less annual leave and sick pay.
And they have won the support of Labour MPs who put their name to an Early Day Motion (EDM) in the House of Commons that claims college management "provoked" the dispute with the new terms.
Principal Mark Silverman has said the new contract, introduced from April 1, was "in line with sector norms". He said they were part of the college's recovery plan following financial deficits of £4.1m in 2012/13 and £3.5m last year.
However, the cause of the striking staff has drawn support from Labour MP John McDonnell, whose EDM calls on the college to "resolve" the dispute to "avoid jeopardising its current Ofsted status". At the time of going to press, four other Labour MPs had signed the EDM.
"Staff are adamant they will not accept the management's disgraceful attack on staffing provisions and their employment conditions," he told FE Week.
However, the college said it had put a proposal to resolve to dispute to the union and Mr Silverman — who described the EDM as a "very one-sided view" — said the college and the union had been in discussions.
"In these meetings we did discuss a proposal for resolving this dispute," he said.
"If existing staff want to reduce their hours a bit, without going on to the new contract,  in order to resolve this dispute we could allow that as well, and minor changes to the first year of sick pay."
UCU regional official, Una O'Brien, said: "We remain committed to resolving the dispute. However, as things stand, we are still set for indefinite walkout."
Mr Silverman said the college had managed to stay "up and running" during the recent strikes and would "remain open for students".
"We will continue making sure that learners are not damaged and hopefully we can resolve this dispute — which has been and is very distracting — soon," he said.
"I hope UCU will recognise it is in everybody's interest to draw a line under this and try to move on."