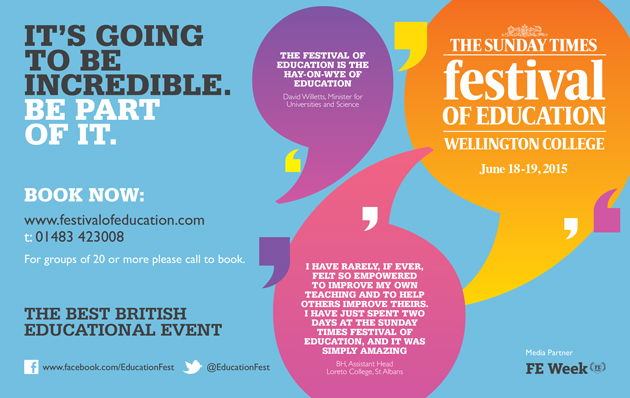 The Sunday Times Festival of Education has confirmed FE Week and Schools Week as a 2015 media partner.
The annual festival will be taking place on June 18 and 19 at Berkshire-based Wellington College and more than 100 speakers from across the world of education and training and beyond have already been confirmed.
After being confirmed as a 2015 media partner, managing director of Schools Week and FE Week publishers, Lsect, Shane Mann said he planned to ensure that this year's event would be more FE and skills orientated than ever before.
He said: "I am delighted that both FE Week and Schools Week will play a key role in the development of content this year.
"Last year was the first year that the festival had organised a large FE and skills section to the agenda.
"There was lots of great content and well attended sessions thanks to the efforts of the festival organisers and partners the Association of Colleges. My hope is that with FE Week's involvement, we can help to ensure that there is even more FE and skills content this year.
"The festival is a fantastic opportunity for all involved in the FE and Skills sector to come together, share and learn. This will be my third festival and it is an event which astounds me every year, so to be part of its development is very exciting."
The festival is one of the largest, most respected forums for thought leadership, innovations and developments in the field of education, attracting education's most forward thinking innovators, influencers, practitioners of change, politicians, journalists, business leaders and policy makers.
Speakers at this year's festival will include professor of psychology at Stanford University and author Carol Dweck, associate professor of psychology at the University of Pennsylvania and a leading advocate of character-based learning Angela Duckworth, and Schools Week editor and respected education blogger Laura McInerney.
Director general of MI5 from 1992 to 1996 Stella Rimington, writer, philosopher and television presenter Alain de Botton, gay rights campaigner Peter Tatchell, and rock musician, author and historian Julian Cope will also be speaking.
Louise Hunter, co-director of the festival, said: "This partnership places FE Week and Schools Week in a key position to work with us to develop the content for this year's festival and we are excited to be working with Shane [Mann] and the team.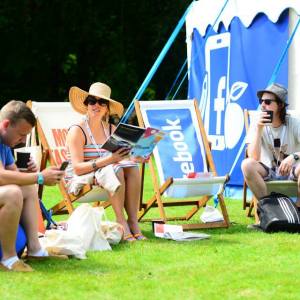 "The response to the festival year-on-year has been fantastic and we are committed to continuing to develop and grow the festival as a rich source of continuing professional development, innovation, inspiration and growth for everyone in education."
Information on special festival rates for FE Week and Schools Week subscribers will be announced soon.
Visit www.festivalofeducation.com or follow @EducationFest for further information on the festival.