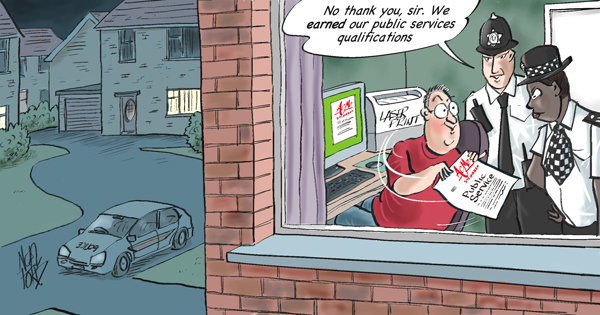 An online conman who sold fake City & Guilds and OCR certificates from his Darlington cul-de-sac home has been sentenced 80 hours of unpaid work.
Edexcel, AQA and Ofqual logos were also used by Martin Bowman as he produced the counterfeit paperwork.
However, Darlington Magistrates' Court heard that most of his customers asked for refunds because the certificates were of such poor quality.
The 26-year-old, who has moved to Gosforth since the crimes, was sentenced at Darlington Magistrates' Court on Wednesday (January 14) to 80 hours of unpaid work and ordered to pay costs of £567.97, including a £60 victim surcharge. He had, at an earlier hearing, admitted two counts of selling goods with a sign which was likely to be mistaken for a registered trademark.
Andrew Swan, defending, said there was a statement on the website that the certificates were for novelty use.
Most of the certificates were for GCSEs and A-levels, and an Ofqual spokesperson said it acted after discovering Bowman's website, www.fakequalifications.co.uk. She said: "Ofqual discovered this website and investigated. We monitored conversations online and purchased a number of certificates. We also discovered the address linked to the website and referred the matter to Trading Standards officers at Darlington Council."
Michelle Meadows, executive director for strategy, risk and research at Ofqual, said: "Fake certificates for qualifications will not be tolerated and we have ensured that the website no longer provides these. We want people to feel secure in the knowledge that a qualification accredited by Ofqual is valid."
Alison Lewis, AQA's director of quality and customer standards, said: "Selling or using fake certificates is unacceptable. Students work hard to gain their qualifications and we want them to feel secure that their certificates will be highly valued by universities and employers.
"There are security features on all AQA certificates and if any employer has a concern about an AQA certificate they can phone us to check it is valid."
City & Guilds PR officer Wendy Anstead said: "City & Guilds was aware of the qualification forgery, and we've been assisting the investigation."
A spokesperson Pearson, which owns Edexcel, said: "The integrity of our qualifications is of paramount importance to us and we welcome the news that this issue has now been brought to a close. We take the security of our qualification certificates very seriously and have measures in place to protect against fraud. For example, our certificates are printed on customised, tamper-proof paper with inbuilt security features both visible and invisible to the naked eye."
Chris McEwan, Darlington Council's cabinet member for economy and regeneration, said: "The jobs market is tough and it may be tempting to make false claims but anyone using a fake qualification certificate to get a job will be found out and ruin their employment chances." He added: "Qualification claims should always be verified."
OCR declined to comment.