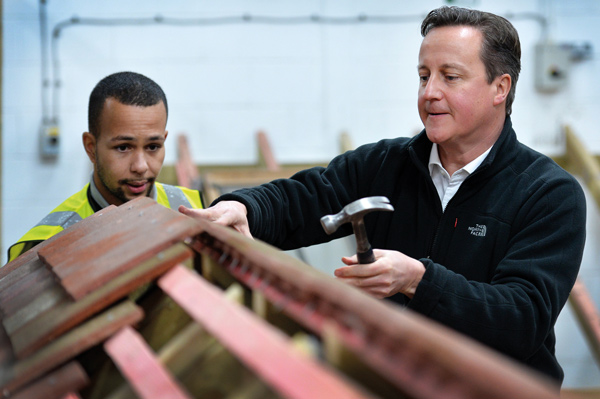 The Prime Minister reached new heights when he visited a Nottingham provider to find out more about apprenticeships, writes Rebecca Cooney.
David Cameron took a tour of Skills Funding Agency-registered East Midlands Roofing College and tried roofing for himself.
And he wasn't slated for his efforts either — 26-year-old former apprentice Linden Blackwood said: "He was actually quite good, so I told him he could start on Monday. He said it was nice to know he had options."
Mr Blackwood said Mr Cameron had been keen to hear about his experience. "I told him how, without an apprenticeship, I'd either still be hunched over a book studying something I hate or in a dead-end job," he said.
Main Pic: former roofing apprentice Linden Blackwood shows Prime Minister David Cameron how to lay a roof.