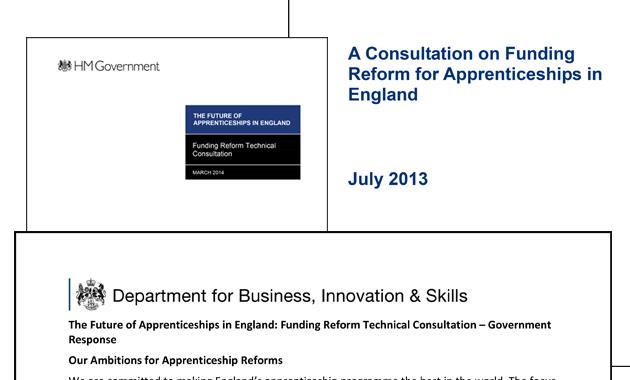 The future of apprenticeship funding remains unclear despite the government this morning responding to the results of a three-month technical consultation last year.
The government has pledged further "collaborative" consultation after neither of the proposed mechanisms to fund apprenticeships emerged as a clear favourite.
Funding for apprenticeships is currently routed through providers, but in future funding is expected to be routed through employers — either, the consultation proposed, through the PAYE system or an apprenticeship credit account.
Skills Minister Nick Boles, writing in the response document, said: "Based on the feedback to the consultation, we have concluded that further detailed design work is needed before we can reach a final decision on which funding mechanism will be taken forward to meet our shared aim of more high quality apprenticeships, where employers hold the purchasing power. We will continue to undertake this further work with you, in an open and collaborative way."
The technical consultation, which ran from March 6 and attracted 1,459 responses, followed a 2013 consultation that uncovered wide-spread opposition to employer-routed funding.
Mr Boles added that the decision to give employers direct control of apprenticeship funding was "non-negotiable" — but there was no restatement of the government's commitment last year that the new funding mechanism would be put in place in 2016.
"If we are going improve and expand our apprenticeship programme further we must put employers in the driving seat — and give them control of both the design and funding of apprenticeships," he said.
"I look forward to working with employer organisations and others to develop a funding model that is simple, transparent and easy for employers to use."
However, the government's pledge to commit £2 for every £1 of employer investment looks less certain with the consultation response revealing it would only be implemented from September on a "trial" basis, continuing the trials already underway.
A Department for Business, Innovation and Skills (BIS) spokesperson declined to comment on the ratio, but said: "We have not yet reached a decision on what the mechanism for routing funding to employers should be.
"As a result of the responses to the consultation we are keeping an open mind and considering all the options including what lessons we can learn from the funding model we are trialling with the trailblazers."
Nevertheless, news that the Department for Business, Innovation and Skills (BIS) would be consulting further on the reform plans, which follows an apparent thawing on the idea from Mr Boles, were welcomed by the Association for Employment and Learning Providers (AELP) and Association of Colleges (AoC).
Employers made up 995 of the respondents, and AELP chief executive Stewart Segal said the decision to consult further showed "the government has heard the voice of employers".
"We have been saying for some time that employers want to have the purchasing power in the programme and in fact they already do have that power," he said.
"Most of the employers our members work with do not want to take on the administration and management of the government contributions and they will want to continue to work with the providers of their choice."
Mr Segal added AELP was working with BIS and the funding agencies to develop its own, simpler model that would "encourage more employers to become engaged".
Teresa Frith, AoC senior skills policy manager, said: "We are pleased to see the government standing by its commitment to create a world-class apprenticeship programme and pledging to take its time to get the reforms right.
"It has taken on feedback from the consultation which raised concerns about the practicalities of fulfilling the principle of employer-routed public funding. More work needs to be done before this goes ahead."
No one from BIS was available to comment on when further consultation would be taking place or how it would be carried out.