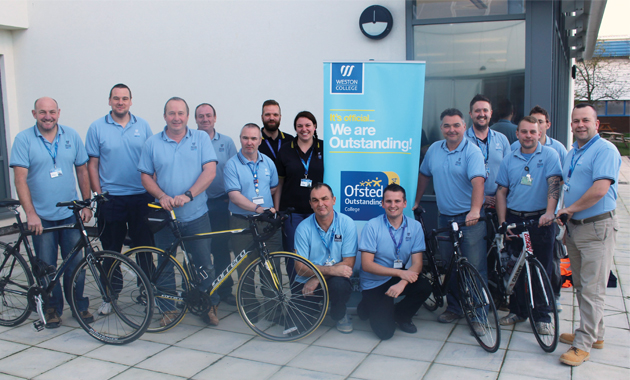 A photography student from City College Norwich (CCN) is hoping to fire her wheelchair football team to victory this season, while promoting disability sport in her new role as a college ambassador, writes Billy Camden.
Chelsea football star John Terry has got some serious competition in the form of 16-year-old Rosie Hodgson.
While the former England defender takes to the Stamford Bridge turf to lead the likes of Eden Hazard and Cesc Fabregas, CCN's Rosie is turning heads with her own footballing abilities.
She plays right wing for Watford-based Muscle Warriors in the Wheelchair Football Association (WFA) Championship Division.
And her success in the sport — with her team sitting top of the league having gone 13 matches unbeaten — has resulted in CCN Active, the Sport England-backed programme of sports and activities for all students at CCN, appointing her as a disability sport ambassador.
"At football sometimes I see myself as John Terry because I feel I am big, strong and a powerful leader and I hope I can also do that in my ambassador role," Chelsea-supporting Rosie told FE Week.
Rosie, who is in her first year of an extended diploma in photography, was diagnosed with primary lymphoedema, a chronic swelling of one or more body parts, when she was just five years old. At the age of nine she was forced into a wheelchair when her pelvis collapsed.
"When I first broke my pelvis I was in a manual wheelchair which really hurt my limbs and particularly my shoulders so getting a powerchair really made a difference,"
she said.
Helped by mum Tina and dad Paul, who take time off work to travel all over the country for hospital appointments, Rosie and family drive from Norwich to Watford every week so that she can train with her team.
Little brother Charlie also pitches in to help by keeping his sister company on the journeys.
And off the field, Rosie is also keen to encourage more wheelchair users to get involved in powerchair football — a 4 a-side sport with three outfield players and a goalkeeper on a standard-sized basketball court, with two halves of 20 minutes — and other disability sports.
"Powerchair football is a great sport and it is growing. The more people we can get into it, the better," said Rosie.
"Since I've started wheelchair football, my only regret is not doing it sooner."
She added: "There are so many opportunities for people with disabilities to get involved in sporting activities, whether they want to do so for enjoyment or to be competitive, including here at the college."
Appointed by the college's Sport Maker, Chloe McMorran, because of her "enthusiasm" and "passion", Rosie has been asked to set up and coach a powerchair football team.
Her role will also see her give speeches and organise student group sessions.
Ms McMorran said: "We are so proud of Rosie and cannot wait for her to start as an ambassador. Her passion and enthusiasm are infectious, she is perfect for the role."
Main Pic: Rosie Hodgson is hoping to emulate the success of her sporting hero, as a right winger with Watford-based Muscle Warriors Powerchair Football Club
Pic by: Emily Karn