A former London college vice-principal described by ex-colleagues as "a woman of extraordinary energy and judgement" has died, aged 68.
Tributes poured in from ex-colleagues of Ruth Nixon (pictured), who was assistant principal and vice-principal of Lambeth College between 1994 and 2010.
She died peacefully following a sudden illness on Friday, January 2.
In a joint statement, Adrian Perry, the college's principal from 1992 to 2002, and Dame Lorna Boreland-Kelly, college chair of governors from 1992 to 2013, said: "Ruth Nixon was a woman of extraordinary energy and judgement.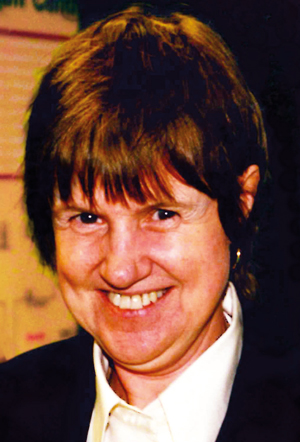 "She came to Lambeth College at its establishment from South London College; as the college became organised on a unified basis, she took increasingly senior roles, with a particular emphasis on curriculum and quality, the part of the college that actually affected students, who remained at the top of her priorities.
"As successively assistant principal and vice principal, she established robust systems that radically raised pass rates and reduced drop-out. Because of her work, many more students gained qualification and moved into employment and higher education.
"Ruth was self-effacing, working in the background to get the best outcomes, happy for others to make the speeches and take the credit."
Mrs Nixon, who lived in Blackheath, London, and is survived by her husband and two sons, first entered the FE workforce teaching English as a Second Language (ESL) at Cheetham FE Centre, Manchester, from 1971 to 1972. She taught ESL and literacy at Bradford College, Manchester University, Sheppey School, in Kent, and South East London Technical College (SELTEC) over the next 15 years.
Mrs Nixon was appointed deputy head of humanities in 1987 at South London College, which merged with Vauxhall College and Brixton College of Further Education to form Lambeth College five years later.
Richard Chambers, who was the college's principal from 2005 to 2011, said she was an "unsung hero".
"I worked with Ruth at Lambeth College for the last five years before she retired and before this at South East London College ," he said.
"She was a central part of a hugely pioneering bunch of colleagues leading curriculum reform to make colleges more suitable places for people with modest educational achievements from their schooling days.
"By the time I caught up with her again at Lambeth she had, through her wisdom, vast depth of expertise and an unparalleled work ethic, shaped and maintained a college course offer which was what local people needed and wanted.
"Ruth's unassuming quiet nature was the mark of a selflessness which made her such a great public servant and educationalist.
"I extend my deepest sympathies to all of her family."
Mark Silverman, the current Lambeth College principal, said: "Although Ruth and I didn't work together at Lambeth, it's clear from the way that our staff have reacted to her passing that Ruth was a woman of tremendous passion and determination who put learners at the heart of the college and was a great encourager and enabler of staff.
"Ruth will be sadly missed by many of our staff who have very fond memories of her. Our thoughts are with her family and close friends at this time".