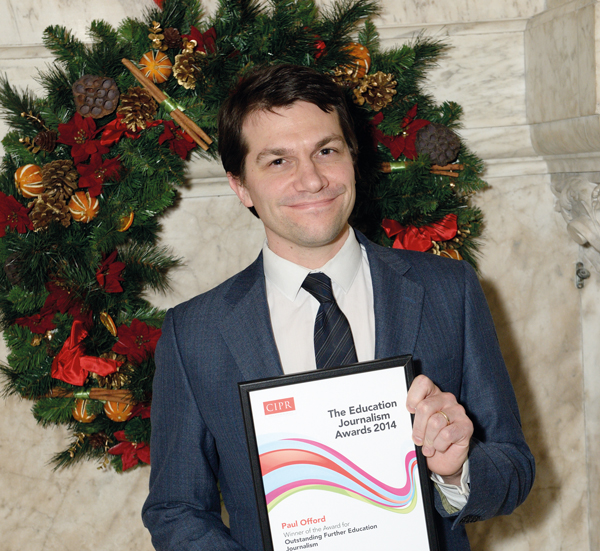 It's official — FE Week journalism is worthy of an award!
Reporter Paul Offord (pictured), aged 37, walked away from this year's CIPR Education Journalism awards with the top prize for his 'outstanding FE journalism'.
His entry, a series of reports last academic year covering Bright International as awarding organisations (AOs) walked away from the independent learning provider and culminating in a damning AO report on its practices, impressed judges who praised the quality of his "investigative journalism".
He said: "I couldn't believe it when I won, but am really pleased.
"I would like to thank my colleagues and the many disgruntled learners who tipped me off with different angles to keep the story running and in particular my whistleblower who had the guts to speak out."
He added: "This is a nice Christmas present for the whole team at FE Week and good recognition of the emphasis the paper places on investigative journalism."
Chris Henwood, FE Week editor, said: "The award comes as much-deserved recognition for Paul's dogged determination to follow through to the end a very serious story covering how learners were left in the dark about whether their learning achievements would be certificated.
"His reporting expertly straddled the fine line between what can and can't be published legally while at all times holding the interests of learners at heart."
Paul said his £500 prize would be spent on taking wife Gabreille, 44, and their four-year-old son, William, on a Christmas trip to Westleton, in Suffolk.