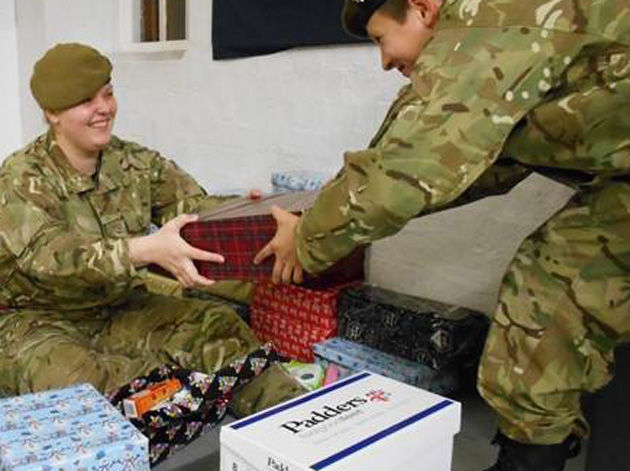 A group of GCSE learners from Lincoln College donated gifts and toiletries to members of the armed forces who will be away from their families at Christmas, writes Paul Offord.
Most people will soon be exchanging presents and tucking into their Christmas dinner in the company of loved ones.
But GCSE learners from Lincoln College were moved to take action to boost the spirits of men and women who will miss out on traditional home-comforts this festive season while serving with British armed forces overseas.
The learners filled two large bags with books and DVDs and 10 shoe and boot boxes with festive treats.
One of the students, Gemma Tester, aged 18, said: "Everyone brought in something that we thought we would appreciate if we were away from home at Christmas — I brought toiletries.
"I have friends that are in the Army and relatives that are married to people in the RAF and know that it must be awful to be so far from your loved ones at this time of year."
The idea became reality after GCSE pathway lead Lynn Train-Brown heard from her 14-year-old daughter, Beth, that her Army cadets group, the Lincoln-based Abbey Detachment, was collecting gifts to send to those serving in Kabul, Sierra Leone, and other parts of the Middle East.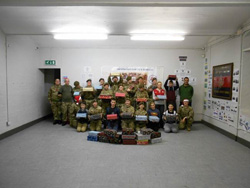 Ms Train-Brown said: "There has traditionally been strong links to the military in Lincolnshire — particularly the RAF which has bases in Scampton, Waddington and Coningsby, which means that many of our staff and students are either ex-forces or have relatives currently serving.
"The Army cadet group was also based at the college until earlier this year and they still have close links with us, so we really wanted to help out."
She asked a group of 24 GCSE learners if they would like to support the cause and they enthusiastically agreed.
"The students put in things like toiletries, Christmas puddings and hats that they had brought in from home," said Mrs Train-Brown.
"They also donated lots of tinsel and other Christmas decorations so the troops can brighten up their tents while they're away."
She added a number of learners put letters in the boxes which they wrote themselves and were hoping to receive replies.
Ms Train-Brown said: "We were told that troops who are missing home and might not have many people to keep in contact with really appreciate being written to."
The overall campaign is being run by Sergeant Instructor Kayleigh Tucker, from the Abbey Detachment.
She said: "The aim behind the scheme is to provide those serving overseas during the festive period with as much moral support as we possibly can.
"It is impossible to imagine how hard it is for servicemen and women to be so far away from their families, especially at this time of year, so it is our mission to ensure that serving soldiers have something to brighten their day this Christmas."
Main photo caption: (From left) Sergeant Instructor Kayleigh Tucker and cadet Kereen Hitchborne