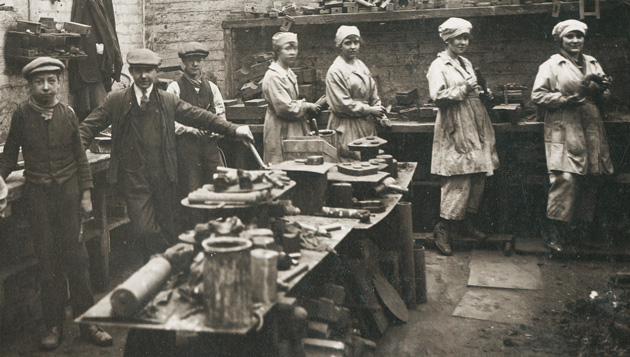 New research by a Lincoln university professor of history, commissioned by the Skills Funding Agency (SFA), shows how apprenticeships have changed since the outbreak of the First World War, writes Paul Offord.
Today's apprentices might expect to be hauled before their employer or tutor if they are not pulling their weight — but not a judge.
As part of the government's Made by Apprentices 1914-2014 campaign, the Skills Funding Agency (SFA) commissioned professor of history at the Univesity of Lincoln Krista Cowman to study historical records and prepare an overview of early 20th Century apprenticeships.
Professor Cowman found that apprentices who, according to their bosses, were performing below par a century ago could be summoned to appear in court.
It could be for turning up late, being "idle" or just having a bad attitude and could even result in a prison sentence.
The report, which will be published online later this month, stated: "By 1914 law was becoming the last resort for employers… 'Idle' apprentices still occasionally appeared before the Chamberlain's Court in London where the maximum punishment for this crime remained a term of three months in the Bridewell."
It added apprentices who failed to fulfil their obligations were also being brought before the courts in other parts of the country at that time.
A selection of photos of apprentices taken around 100 years ago in North East England were released to coincide with the campaign, launched as part of commemorations of the centenary of the outbreak of the First World War, that aims to help boost awareness of apprenticeships among young people and employers and show how they have changed.
It was supported by Edward Padgett, owner of Arthur Padgett plumbing business in Lancashire, which started trading almost 100 years ago and was founded by his grandfather, Arthur Padgett.
He said: "My grandfather started as an apprentice in plumbing over a century ago.
"Since then our trade has evolved enormously, but the need for skilled labour is still as relevant today. That's why we continue to support apprenticeships."
Sue Husband, director of apprenticeships at the National Apprenticeship Service, said: "We urge employers to take stock on what has been achieved in the last century and consider how apprenticeships could help their business deliver for years to come."
Professor Cowman's research allowed the SFA to compare the 10 most popular apprenticeships in 1914 with those of today
Traditional trades including dress making, carpentry and millinary dominated back then, but it is more varied today with health and social care, business administration and management at the top.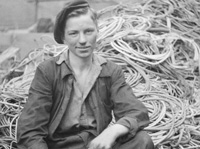 There were 851,500 people taking part in apprenticeships in 2013/14 across all ages and all levels, according to government figures in last month's Statistical First Release, compared to around 192,000 in 1914, according to the SFA.
Most apprentices in 1914 started work aged 15 to 17, according to the report. But nowadays the 25+ age group is home to the greatest number of starts, at 161,600. For 16 to 18 in 2013/14 the figure was 119,800.
Funding arrangements also differed in 1914, as apprentices were "indentured" — which meant they were legally required to work for an employer for a number of years and had to pay a fee to their employer to cover the cost of training and tools.
Main photo caption: Apprentices in a brass foundry in North East England in 1914. Top left inset: A female apprentice working in an iron foundry at around the same time Bottom left inset: An apprentice fitter sits on a large pile of cables at a shipyard in Tyneside Pics: Tyne & Wear Museum