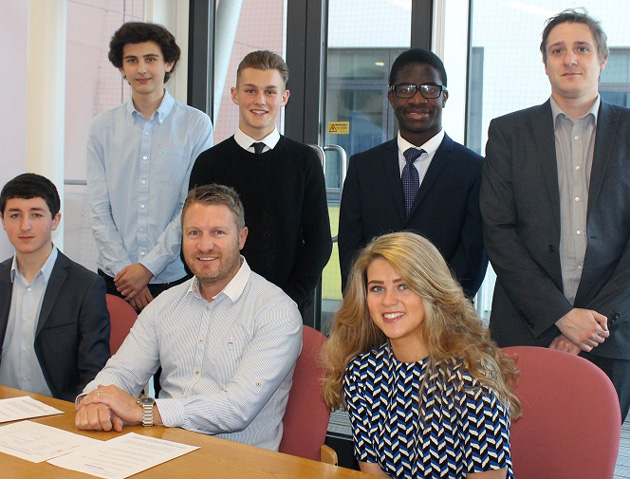 Level three business students from South Cheshire College pitched their business ideas to a Dragons' Den-style panel of business leaders.
A total of 75 learners presented proposals to representatives from organisations including marketing agency Momentum Factor UK and accountancy firm The Alextra Group.
Ideas included a relaxation zone in a shopping centre, featuring computer games, where people who hate shopping could wait while their partners visited stores. Another learner wanted to open a night club without DJs where clubbers chose songs at the touch of a button.
The panel selected the 18 best ideas which will be further developed ahead of the college's Business Exhibition in January, where an overall winner will be chosen.
Claire Finney, business lecturer at South Cheshire College, said: "The students have all worked exceptionally hard on their business ideas and put forward some excellent proposals to employers."
Photo caption: Back row from left: Students who pitched ideas Tommy Locklin and Jake Toal, both 16, and Mulenga Kangwa, 17, with Phil Taylor from Alextra Accountants. Front row from left: Learners Jess Brown, 18, and Michael Madeley, 16, and Jamie Stewart from Momentum Factor