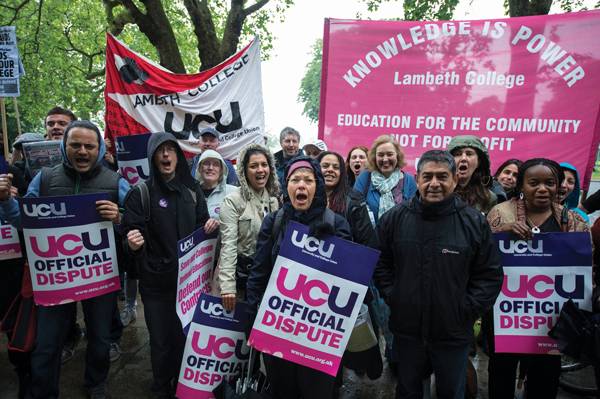 The principal of Lambeth College has pleaded with University and College Union (UCU) members to step back from "damaging and destructive" strike action after they voted in favour of a second indefinite strike in just eight months.
Mark Silverman also called on government and local politicians to encourage unions to focus their efforts on the negotiating table, rather than go ahead with a series of planned strikes beginning this week.
He said it was "disappointing that UCU aren't thinking about the learners and the impact it's going to have on them".
The UCU unveiled plans on November 26 for a series of escalating one, two and three-day walkouts, culminating in indefinite strike from January 17, in a row over contracts for new staff which the union says would leave teachers with longer working hours and less annual leave and sick pay.
Mr Silverman said: "I would welcome anybody who has any influence with UCU to encourage them step back from something that's going to be so damaging and destructive, and to understand what that industrial action is going to do to learners and to the college."
If the strike goes ahead it will be the second time UCU members at the college have taken indefinite action in eight months, following a strike from June that lasted five weeks.
Staff returned days before the summer holidays began and have been involved in talks with the college since September but in a ballot, the results of which were announced last month, 66 UCU members voted to strike, from a turnout of 80 members from a staff of 250.
Una O'Brien, UCU regional official, said: "The situation at Lambeth College is now very clear and the management cannot be in any doubt at how angry staff are about the new contracts.
"We hope that strike action, which will certainly mean major disruption again at Lambeth, won't be necessary. The college needs to sit down with us to talk through changes to staff contracts and work towards finding a solution staff are happy with."
The new contracts at the centre of the row were introduced for new staff on April 1 and offer 50 days a year annual leave — 10 days fewer than that given to existing staff.
However, Mr Silverman has said the terms were "in line with sector norms".
He said they were part of the college's recovery plan following a grade three Ofsted inspection in March 2013 (up from a grade four in October 2012) and financial deficits of £4.1m in 2012/13 and £3.5m last year.
"We've made great progress, we have really increased our success rates, but clearly the damaging action and the end of last year has dented that progress," said Mr Silverman.
"UCU needs to understand the reality of the challenges we face."
The first strike is expected to take place on Thursday (December 4) for one day, followed by a two-day strike on December 9 and 10 and a three-day strike is scheduled for December 15, 16 and 17.
Following Christmas, a two-day strike is planned on January 7 and 8, with three days of striking on January 13, 14 and 15 before the indefinite strike is set to begin on January 17.
Main pic: Striking UCU members on the picket line during the five-week strike which began in June