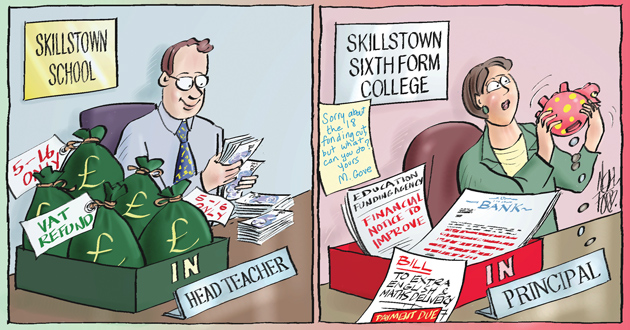 The principal of a financially-troubled sixth form college ordered by the Education Funding Agency (EFA) to improve has hit out over government cuts to the FE and skills sector.
David Vasse, principal of John Leggott College, in Scunthorpe, which was handed a financial notice to improve last month, told FE Week his college's situation was "typical" and the result of "vastly reduced funding".
The college was issued with the notice after its 2014/15 finances were rated "inadequate" by the EFA for the second year in a row.
"The college's situation is typical of many colleges in the country with less than good financial health; funding per 16 to 19-year-old is vastly reduced compared to funding for other age groups and yet the costs of providing pre-university teaching, support, guidance and welfare services is increasing each year," said Mr Vasse.
He said the college had "success rates much higher than sector averages" despite receiving "one of the lowest rates of funding per learner of any educational establishment in North Lincolnshire".
Mr Vasse also pointed out that unlike schools and academies, sixth form colleges were not exempt from VAT. "Sixth form colleges across the country are pushing hard to address this inequality," he said.
The 1,767-learner college will now have to prepare and submit a financial recovery plan to the EFA by December 7. The notice to improve came around six months after Ofsted rated the college, including its leadership, as good, in a situation similar to that of cash-strapped Bournville College, as reported in the last edition of FE Week.
FE commissioner Dr David Collins identified a "critical cash position" at the 15,000-learner Birmingham college in August after the Skills Funding Agency issued a notice of financial concern in April. He said Ofsted, which rated the college as good with outstanding leadership in May, could be "more useful" with regard college finances.
An Ofsted spokesperson said: "As set out in the FE and Skills Inspection Handbook, we do not directly look at finance-related issues when inspecting a provider. Issues such as this [Bournville] are a matter for the funding bodies and, where relevant, the FE Commissioner. Both Ofsted and the commissioner, together, play a vital role in helping to raise standards and outcomes for learners in the FE sector."
Mr Vasse added the college had begun to make savings, and was "on course to generate an end-of-year surplus by 2015/16".
The John Leggott notice was issued on November 7, but only made public on November 24. No other sixth form college is currently under a financial notice to improve from the EFA.
A Department for Education spokesperson said: "The funding is sufficient for each full-time student to undertake a full timetable of courses to suit their needs, be it A-levels or other post-16 qualifications. It is for individual institutions to decide on what they provide to best suit the needs of their students."