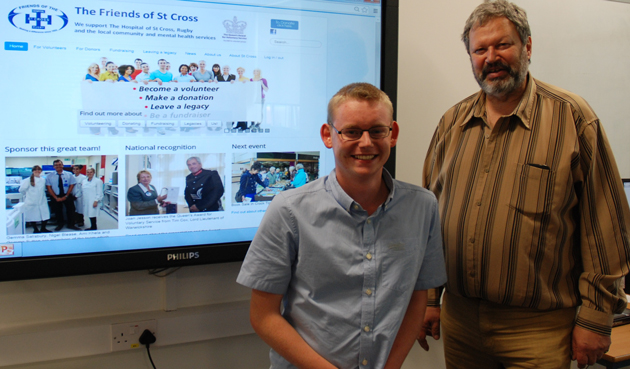 A healthcare-support charity has a new website thanks to Rugby College student Lewis Flavell.
The Friends Support the Hospital of St Cross and the Community and Mental Health Services in Rugby approached the college to see if they could help to revamp the charity's website.
Computing management curriculum leader Ed Shuker gave 11 students from Rugby and Royal Leamington Spa colleges the project as part of their website design module.
Charity representatives were kept informed as the learners developed plans and designs over seven weeks before they opted for the website developed by 19-year-old Lewis.
He said: "It's a great project and I'm proud with what I've come up with. I've also been working with the charity to help with some technical challenges with transferring my design to the charity's own content management system. It's good to know that the website I designed is now live and being used to help local people.
Picture caption: From left: Lewis Flavell and The Friends Support the Hospital of St Cross and the Community and Mental Health Services in Rugby communications leader Willy Goldschmidt by a screen showing a page of the new website