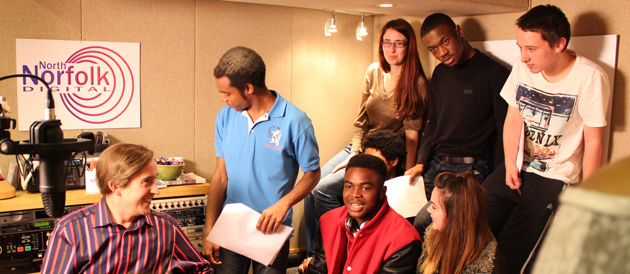 Performing arts students from Croydon College acted alongside comedian Steve Coogan in his latest Alan Partridge series, writes Paul Offord.
It is not every day that students are encouraged to wreak havoc on the set of one of the nation's best-loved comedy shows.
But that was the basic instruction given to 19 performing arts learners from Croydon College when they starred in the second series of Alan Partridge: Mid-Morning Matters, set to be screened on Sky Atlantic in the new year.
They played unruly youngsters from a local comprehensive invited into the fictional North Norfolk Digital studio to talk to Mr Partridge, played by Steve Coogan, about their school's playing fields being sold off.
Level three learner Kellie Blair, aged 20, said: "We sat in Alan's little studio and were basically told to throw things at him while he tried to present his show. Some of the students then started shouting at him and we were all winding him up until a big argument broke out.
"The students with speaking parts probably only had about half an hour to learn their lines and the rest of us were given a basic idea what they wanted and left to improvise. Then Mr Coogan would ask us to do certain things slightly differently and we'd see how that went until everyone was happy with it."
Programme makers Baby Cow Productions approached Croydon College after Mr Coogan specifically asked for youngsters from outside of traditional stage schools to act in the episode.
The show's producer Ted Dowd, from Baby Cow, said: "Steve [Coogan] was keen not to have stage-school kids because they always seem to have their natural instincts and realism sucked out of them."
Mr Dowd was full of praise for the college learners' good manners behind the scenes during filming on November 13.
He said: "It was so great to have them come up after and say thanks for letting them be involved. You don't expect that these days.
"Steve did a good job of directing them — without making them feel intimidated or self-conscious. It is always a fine line to tread… but he's an old pro. Steve had great fun and it worked a treat."
Level three learner Mark Choppin, 17, was one of six students who had speaking parts.
He said: "It really was such an amazing opportunity. We learned so much in a short period of time about film acting and production. It will look impressive on my actor's CV."
James Miller, the college's programme leader for performing arts and production, said: "It was a fantastic and valuable experience for the students, who gained practical knowledge about acting and filming. It was also pretty special to think they were directed by Mr Coogan."
Kellie, who hopes to act on TV after graduating, said: "It was pretty surreal to be working with him [Mr Coogan], but I found it very inspiring for my future career. He was really nice. He seemed to care a lot that we were all happy with what we were doing during filming and was even nice enough to pose for photos with us afterwards."
She added: "It was good to see how they make a TV show like that and everyone was very professional. It's definitely something that I would like to go into one day."
Picture caption: Mr Coogan directing the learners