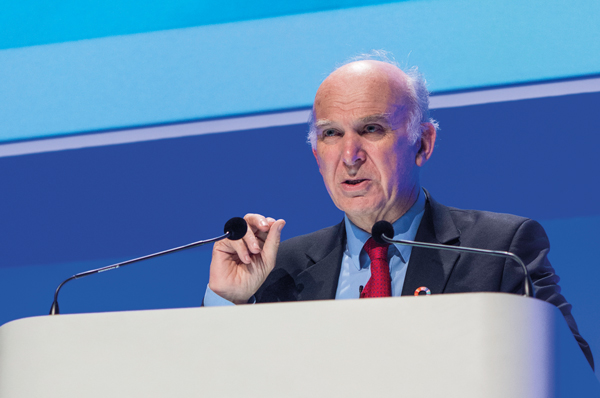 Money for FE "will be scarce", no matter who wins the general election, Business Secretary Vince Cable has warned.
In a bleak speech which sounded at times like his farewell message to the sector ahead of what is expected to be a punishing election for his party, the senior Liberal Democrat told the Association of Colleges (AoC) annual conference in Birmingham that further cuts to public spending will hit FE hard.
He said: "Whoever is in government next, any party, any combination of parties is going to grappling with this issue. Money will be scarce. I am not going to pretend otherwise, it is not going to be easy.
"Predominantly, the burden of deficit reduction has fallen on public spending. It's something in the order of 20 per cent of the burden has fallen on tax and 80 per cent on public spending. I personally don't think that's sustainable. I have been making the case for high tax relative to public spending. That is not a fashionable view. It's not a popular view. But I will continue to make it."
Speaking to FE Week after his speech, he said his record in defending the sector was the only reassurance he could offer colleges worried about their futures.
He said: "The reassurance I can give them is my own record. I came into office faced with demands to cut FE by 40 per cent, and I totally rejected it.
"But I have warned principals that if the next government, whoever it is, presses ahead with deficit reduction based on spending cuts rather than tax or a sensible mixture it's going to be very tough. The current system is already quite painful, we're only just over halfway through it."
But in a move which will be welcomed by colleges, Dr Cable indicated that a decision on whether or not to scrap proposed mandatory employer cash contributions for apprenticeships would be announced soon.
He said: "I can't give an absolute commitment that it will [go ahead]. We are aware of the criticisms and we are trying to respond to them, and I would hope that certainly well before the election there is some clarity about this."
Representatives of the Conservatives and Labour Party also offered no words of comfort to colleges at the conference, with both Skills Minister Nick Boles and his shadow Liam Byrne unwilling to make specific promises about funding post-2015 when asked by FE Week.
Mr Byrne said Labour saws skills funding as "one of those areas which should get devolved to city regions" and admitted he "just doesn't know what the numbers are going to look like".
"I will go into those spending review sessions with every skill I acquired as Chief Secretary to the Treasury in the last Labour government and determined to deliver a growth agenda for FE," he said.
Mr Boles said: "The idea that we as a government are going to cut FE off at the knees, having already demanded quite substantial economies, there is no basis for that. But I can't make any further commitment because I'm not the chancellor and we haven't had the election yet."