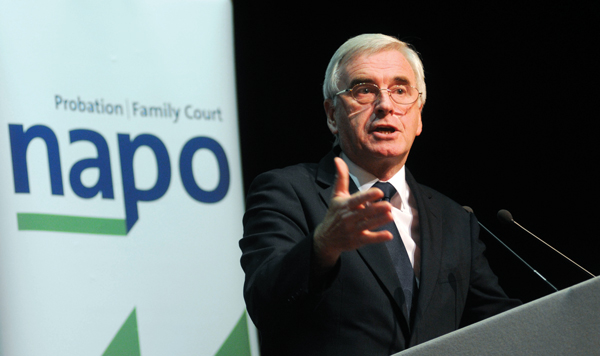 A bid to put the apprentice minimum wage on a par with that of 'normal' workers — and for it to be increased to£10 an-hour — has had the backing of more than 20 MPs.
John McDonnell (pictured) sponsored an Early Day Motion (EDM) demanding action to end the "scandal" of the £2.73 apprenticeship minimum wage, and rejected claims that any rise in the apprenticeship wage could put employers off.
The EDM said action was needed "to address the scandal that apprentices can be legally paid as little as £2.73 per hour".
At the time of going to press, 22 Labour MPs plus Lib Dem Andrew George and Respect's George Galloway, had signed the EDM which backed a Trades Union Congress motion demanding employers pay £10 an-hour national minimum wage (NMW) — or prove they cannot.
Mr McDonnell told FE Week: "I'm calling for a minimum wage of £10 per hour with no age differentiation. This about ensuring people have a wage they can live off.
"I do not believe this represents a disincentive to apprenticeships, but simply seeks to redistribute some of the profits of individual companies."
Employer bodies also cautioned that raising the apprenticeship minimum wage could reduce opportunities.
The Confederation of British Industry deputy director general Katja Hall said: "The independent evidence-based Low Pay Commission [LPC] already successfully sets the NMW at the highest level possible for apprentices, without risking reducing the number on offer.
"To encourage more employers to offer quality apprenticeships it's important that the cost of delivering them is affordable.
"Raising the cost of taking on young people would dissuade smaller firms from getting involved."
The Federation of Small Businesses national chairman John Allan said: "While we think there is a case for increasing the minimum wage for apprentices, further rises should be gradual so employers aren't disincentivised from taking on a new apprentice.
"We have always supported the minimum wage, but the decision of what level it should be set at should be informed by the independent advice of the LPC."
The EDM comes after an LPC consultation on all rates of the UK minimum wage came to an end on September 26. It is considering simplifying the rate for apprentices, prompting fears the system could entail a new minimum rate for all apprentices with learners above the age of 18 no longer moving up after 12 months to the higher rates enjoyed by normal workers.
Its findings and recommendations are due in February.