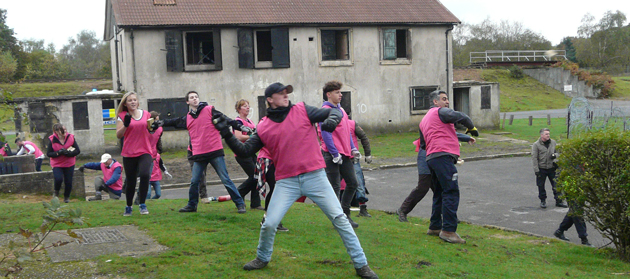 Level three public services students from Chichester College attacked the police with rocks and wooden planks in a riot re-enactment.
The event at Longmore Army Camp, near Petersfield, was organised by Sussex, Surrey and Kent police forces to give officers experience of how to deal with large-scale public disorders.
Public services lecturer Rob Giles said: "Every single one of the 36 students [who took part] got into character and really played up to the role of rioters in a way that would be valuable experience for the police.
"They replicated a full-on civil disturbance by throwing bricks and wooden blocks, while controlled petrol bombs and pieces of rubber were also used make the 'disturbance' look as realistic as possible."
Sussex Police sergeant Helen Dunkling said: "The students appeared to throw themselves into their roles and made for an excellent and realistic cross section of society."
Picture caption: Learners hurling rocks