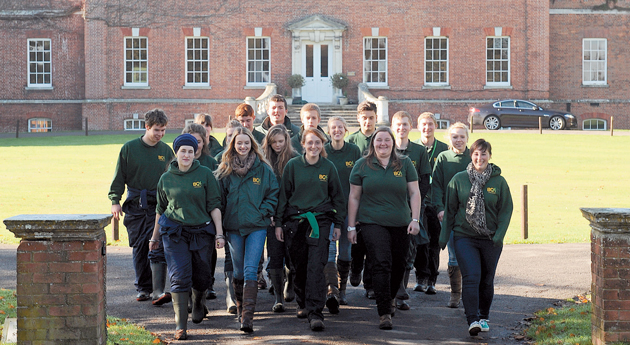 Berkshire College of Agriculture (BCA) invited local farmers to a celebration of the re-launch of agriculture into its syllabus after a 13-year absence, writes Paul Offord.
A college that stopped offering agriculture courses following an outbreak of foot and mouth disease is now helping tackle the problem of farming's ageing working population.
There were farming-based courses taught at the 1500-learner Berkshire College of Agriculture (BCA) for more than 50 years until they were stopped in 2001.
The college was even rebranded — it is only called BCA on its website — to avoid confusion after it stopped teaching agriculture, but carried on offering a variety of FE courses including sport, equine studies, science, floristry and horticulture.
But it launched a level three extended diploma in agriculture in September which was celebrated this month with an official launch party.
It was attended by more than 20 local farmers, past and present students and representatives from the Country Land Owners Association and the National Farmers Union.
Victoria Beckwith, head of horticulture, countryside and agriculture, said: "Our slogan for the launch event was 'putting the A back into BCA' as it was obviously a shame that a college with our name had stopped teaching agriculture."
Current learners celebrated the return of agriculture to the syllabus at the launch event by restaging black and white photos taken of students in 1949.
Mrs Beckwith said: "The college first opened in 1948 when we were the Berkshire Institute of Agriculture and mainly prepared servicemen returning from the Second World War to work in farming.
"We were sadly forced to stop teaching the subject after an outbreak of foot and mouth in 2001 because farmers weren't sending their children to train with us any more, as they weren't certain there was a future in livestock and arable farming."
Ms Beckwith-King said the outlook for the farming industry was now far more positive and they took the decision to launch the new course following a number of enquiries from local farmers.
She said: "We are seeing an ageing population among the agriculture workforce and decided we needed to do something to help train the next generation.
"The course itself covers livestock and arable farming, estate management which involves things like managing fencing and hedgerows, and tractor skills."
Local farmer and college governor Colin Rayner turned 54 acres of grassland on college grounds into a working arable farm over the summer which the students will now train on.
Mrs Beckwith said: "They will gain hands' on experience of things like growing crops and how to work a tractor.
"They will also work at local farms which run dairy and livestock herds and help with looking after them and things like milking.
"We used to have Friesian and Jersey herds of cattle, but sold-off our old working dairy farm to developers after we stopped running the course."
A total of 11 women and seven men, aged between 16 and 28, have signed-up for the course so far.
Mrs Beckwith Smith said: "Farming used to be quite male-orientated but our first intake reflects how that is changing."
Picture caption: Current agriculture students outside the college