The third national Skills Show kicked off in Birmingham on Thursday (November 13) with have-a-gos, careers advice, skills competitions and the finals of the National Apprenticeship Awards.
At a dinner welcoming exhibitors, visitors and VIPs to the show on Wednesday, Skills Show patron Theo Paphitis said he was delighted to be returning for the third year in a row.
"The first time I came to the Skills Show, it was like a light coming on," he said.
"Even as someone in business, I find as a parent I don't always know how to advise my children on what they're going to do with the rest of their lives, so having something like this is terrific.
"We should have been doing this years ago."
As if making up for lost time, the first day of the show had more than 50 exhibitors and have-a-gos ensuring there was plenty to inspire the first batch of the Skills Show's predicted 75,000 visitors, many from Midland primary schools.
Among the visitors was Deputy Prime Minister Nick Clegg and FE Week caught up with him during his tour of the show.
"It's been absolutely brilliant," he said. "I was here for a day last year and I just really wanted to come back again this year.
"Yes, it's a skills showcase but it's also actually a celebration of a way of learning which I think we should do more of in this country — learning by doing.
"It's about metaphorically and literally getting your hands dirty, learning things from the people who are mentoring you and learning some practical skills not just conceptual ones.
"We should be valuing both vocational and academic qualifications equally and I think that's what's on ample display at the Skills Show."
Head of the National Apprenticeship Service (NAS) Sue Husband was also among the first day's visitors.
"It's just been so invigorating — that's the word I'd use," she said.
"It just hasn't stopped and it's been brilliant seeing the young people's faces — some of them were just getting so excited.
When Ms Husband spoke to FE Week, it was too early to tell how many visitors had passed through the NEC during the first day, but she said early indications suggested it had been "better than expected".
"In terms of the timings, people are getting here earlier now," she said.
"Usually there's an hour or so at the beginning where it's really quiet but it picked up straight away this morning and we're pleased with that.
"And some of the stands that were probably not expecting that much interaction today because there's been mainly primary schools were actually surprised by how many came and interacted on the stands."
She added: "I know it sounds a bit trite, but meeting apprentices has been my favourite bit of today — although I did secretly enjoy meeting the Strictly Come Dancing stars."
WorldSkills champ Terron wins again
Deputy Prime Minister Nick Clegg opened the National Apprenticeship Awards ceremony before WorldSkills 2013 gold medal-winning bricklayer Ashley Terron (pictured) claimed the apprentice champion of the year prize.
"The National Apprenticeship Awards really is one of my favourite events of the whole year," Mr Clegg told the assembled employers, apprentices and sector figures.
"This night is always a celebration showcasing the talent, hard work and commitment shown by Britain's top apprentices."
"I was honoured and I wasn't expecting to win," said Mr Terron.
Mr Terron, whose father is also a bricklayer, said he was driven to achieve in his apprenticeship and to promote it to others by his headteacher, who questioned why someone as bright as him might do a bricklaying apprenticeship.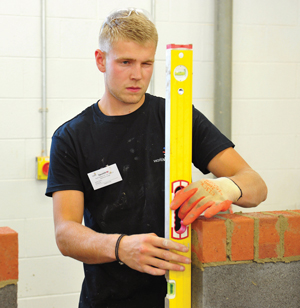 "I took a bit of offence, that he was questioning my family trade and me — even though I had my path set out," said Mr Terron.
"And I've always had that in my mind. That spurred me on to try to strive and achieve the next best thing and that's kept me going.
"I've since got back in touch with the school and oddly he's taken a U-turn on his stance on apprenticeships."
He added: "I was lucky that I worked with my dad so I had a chance to try bricklaying, but a lot of people don't have that and more needs to be done to help people see what kind of opportunities are out there."
Intermediate apprentice of the year went to Co-operative business admin apprentice Lois McClure, aged 20, who did her apprenticeship through Learndirect.
"I took an apprenticeship I didn't really know what it was about they didn't talk about it at school or college," she said.
"I think I've won because I've just taken every opportunity I can. It's amazing to win."
Higher apprentice of the year was won by Hayley James, a Highbury College apprentice with IBM UK, while advanced apprentice of the year went to Anna Schlautmann, 21, a logistics apprentice with Alliance Learning, employed by MBDA Missile Systems.
Small employer of the year went to design company Blue Moon Creative, the medium employer award went to hovercraft designers Griffin Hoverwork, large employer of the year went to MBDA UK and the macro employer award went to housing developer Barratt Development.
Skills gap 'between school and degree'
The Skills Show's opening day also saw the publication of the Organisation for Economic Co-operation and Development OECD Skills Beyond School report at the National Vocational Education and Training (VET) Conference.
The conference took place alongside the Skills Show at the Birmingham NEC.
The report called for the UK to put workplace learning at the centre of vocational education, warning that there would otherwise be a widening gap between qualifications and the skills employers need.
Simon Field, OECD lead vocational education researcher said the report contained two key messages for the UK.
"One is the need to do more to provide intermediate technical and professional skills, beyond school but less than a bachelor's degree," he said.
"The second is to integrate work-based learning systematically into programmes."
The UK Commission for Employment and Skills (UKCES) welcomed the report.
Michael Davis, UKCES chief executive, said: "We support the view that higher level vocational training must have a clear line of sight to a job. Employers must be as close as possible to training to ensure the skills people develop are the ones businesses need."
Association of Colleges chief executive Martin Doel said: "As OECD's report says, ensuring workers have basic skills is important, but what is even more important is that education does not stop when someone enters the workplace."
He added colleges in England worked` with an average of 600 businesses and were "always ready and willing to do more."
All pics : ©2014 Professional Images