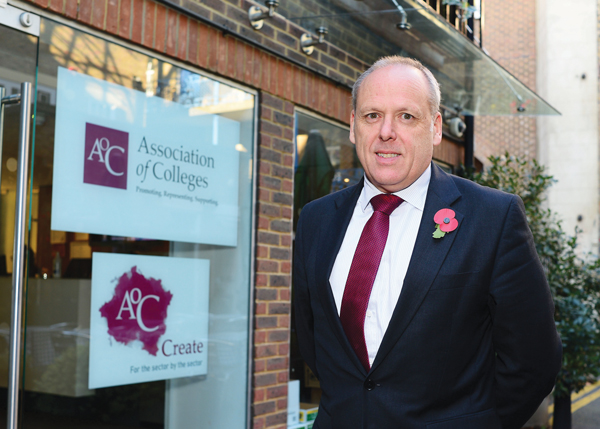 Association of Colleges (AoC) chief executive Martin Doel took time out from his preparations for the AoC annual conference in Birmingham to speak to
FE Week editor Chris Henwood.
He talked about his thoughts on the political parties in the run-up to the general election next year and also answered questions on a range of FE and skills issues including employer cash contributions reform of apprenticeship funding and Lep (local enterprise partnership) engagement with colleges.
"The difference between our pre-general election conference in 2009 and now, interestingly, is pretty much in terms of the headline policies — it's hard to see the difference between each of the parties."
Yes, it's fair to say Association of Colleges (AoC) chief executive Martin Doel is struggling to differentiate between blue, red and yellow on FE and skills policy in the run-up to next year's election.
"They each seem to be saying the same things around four broad areas — more and better quality of apprenticeships, greater devolution, higher quality 16 to 18 education and a focus on higher-level skills," he explains, speaking to me just days ahead of the AoC annual conference.
These are, says Mr Doel, the four broad areas that will also provide key themes for discussion at the conference, not to mention content for his own speech to delegates tomorrow (Tuesday, November 18) morning.
"If you start to talk about what more and better apprenticeships could be, it seems to me that they're missing some important points, that no government can create an apprenticeship — an apprenticeship has to be created with an employer," he says.
"And they are also not saying what the consequences of the current reform programme we've had on quantity and quality are, and how that would roll out in terms of the propensity of employers to fund apprenticeships and take on more apprentices and how that's going to be achieved effectively.
They [main political parties] each seem to be saying the same things around four broad areas
"We need to have a much more comprehensive approach to this, about how you prepare young people to access a high-quality apprenticeship, how they become attractive to employers to be taken on as apprentices, and how you present the offer to employers to see that an apprenticeship is the route to have a more productive and high-quality workforce."
He adds, on his second point: "When you come to the issue of devolution, after the Scottish referendum, everyone's talking about more devolution and you get things like devo Manc — Manchester getting a devolved skills budget. Nobody's quite saying to me how that's going to work, or what the consequences are.
"If Manchester gets devolution, what does that mean for the rest of the system? How does that fit in with the Leps [local enterprise partnerships]? Everyone's got a different level to which they are going to devolve responsibility and elements perhaps of the skills budget, but nobody is talking in any kind of precision about how that will be done, nor have they expressed any real understanding of the consequences that may have for things like having a national framework for apprenticeships, but a locally-funded system.
"Nor has it been addressed how you will actually cover the cost of the administration in doing things differently and at 39 different places in the country, when colleges are delivering across Lep boundaries. The road is a lot more complicated than those people that make broad assertions in local government association or other organisations seem to realise."
The third area in which Mr Doel sees little or no difference between the parties is 16 to 18 education.
"I don't mean to argue against wanting better quality education for 16 to 18-year-olds, of course we all agree that, but again, what does it mean that young people are spending more time doing English and maths than the vocational aspect of their studying? There's only so much you can fit into a curriculum," he says.
"That probably means more young people only get to level two in the vocational aspect of their studies by 18, which means if you want to get to level three, you probably need another year, which means they enter the twilight world of another 17.5 per cent cut to their funding to a rate of funding which is already 22 per cent below 11 to 16-year-olds.
"And the fourth area they are all talking about is the technician gap, and how we can deliver the type of skills that young people need above level three — above A-level — but short of full honours degree in a way that is flexible and allows part-time learning which is deliverable into the workplace, something much more employer-facing at those higher levels.
"So the Labour Party is talking about a technical degree. Well, how is that different from any other degree? Why would universities deliver it? And the government is talking about more higher level apprenticeships. How is the relatively small number of apprenticeships they are talking about at the higher levels going to transform and respond to the technician gap?
"I don't see enough in the Trailblazers to make that scale of difference to our economy. So how do you make good on those broad aspirations and what they need to do, and in that latter one I think we'd say that colleges have had a much stronger, clearer role in doing that, and actually be incentivised to do that."
Pre-conference Q&A with AoC chief Doel
Did you raise an eyebrow when you heard the political parties' promises about the apprenticeship numbers they would deliver if in power after next May?
You're into political rhetoric from people who only have limited understanding of what an apprenticeship is in the 21st century, but it's a political-friendly policy.
From any number of dimensions, you can see why apprenticeships would be a good thing to ask for more of, but again you have to understand what an apprenticeship is, what the required characteristics are, and how you actually grow it.
People like Nick Boles or Liam Byrne will be the ones who, if elected, have to turn those things into reality. They are going to have to think hard about doing it, and I have to say, in terms of the current apprenticeship reform programme, we can already see the difficulties where Doug Richard's apparently simple, straightforward recommendations are proving a little bit more difficult than might be anticipated to turn into a reform programme. This is tricky stuff.
Were you happy to hear the softening of language from Skills Minister Nick Boles towards the cash contributions element of apprenticeship funding reform?
I don't want to dissuade employers from taking on apprentices — that's clearly not what you want to do. On the other hand, if you're not going to have the employer contribution, which is the basis on which the funding has been agreed, the question becomes where do you get the money from? And therefore, how are you going to fund that many more apprenticeships if the employers aren't paying one third towards it?
Your budget is then one third down from where it would be, which is kind of saying you can have a third fewer apprentices because you've not got as much to go around. So there's a resource consequence for not having the money there. My great concern out of that would be that you're going to try and raid other elements of the adult skills budget.
What are your thoughts on the end of the Institute for Learning?
It's hard to say where it went wrong, but I think the fork in the road was when it became almost a regulating arm of government and that was hard to reconcile with individual members paying for a service. From an AoC perspective, I don't ever want to be in a position where I dictate to my members.
How do you assess the performance of Nick Boles as Skills Minister?
He's refreshingly realistic about saying what he can achieve in what's only nine months from the end of a governance period. I've found his pragmatism around English and maths to be refreshing and we need to continue to have conversations about that.
He's said he wants colleges to be enterprising and take advantage of these freedoms that they have. I'd be a bit more quizzical about that insofar as my impression of this sector is it's probably the most entrepreneurial of any within education.
Interestingly, he keeps saying he doesn't know anything about FE. He knows a lot more and he is a very quick learner, but he can only carry on saying he knows nothing about FE for about another month in my estimation.
The FE Commissioner has recommended three college mergers following around 10 inspections. Are you concerned Dr David Collins might be too merger-friendly?
David's not for or against mergers. He's the ultimate pragmatist and he will do what he thinks is best in the circumstances and generally I haven't found many arguments with the judgments he has made.
I think we need to think about how we support the consolidation process and you've got to begin to ask in some circumstances, why would a succeeding college, doing well in really strained times, volunteer to take on the liabilities and difficulties of another college, apart from an altruistic wish to do a good job for others?
It would be quite logical for a board of a college in those circumstances to say 'Well, I support these students, this community, and I don't want to put that at risk by going over the road to do that'.
I really do think we need to think about how we support the colleges that are stepping up to do the right thing to assist their colleague institutions that have got themselves into difficulty. I have argued that I think we need to talk about an innovation and growth fund where there is an amount of money made available to support how you can get innovative ways to actually survive in the circumstances we are in and also grow from this position.
You mentioned you hadn't had many arguments with the FE Commissioner's findings. What were these arguments?
I think some of the public statements need to be carefully worded in order to retain confidence, while being properly challenging if he finds things that he doesn't think is going right. There is an issue about retaining confidence in things like banks that invest in the sector, an issue about retaining confidence in people that are employed within the sector and also around confidence among those who access learning within colleges.
Making a statement about some of those colleges that have put themselves into difficulty always needs to be balanced with, 'But the great majority, in difficult circumstances, are delivering high-quality'.
Do you have any concerns about the Ofsted proposals for a unified common inspection framework?
I kind of buy into the potential of a single inspection framework up to the age of 18 which is predominantly orientated towards directly delivered teaching in a classroom or an equivalent-type environment, but I have some difficulty seeing how it can apply as easily to post-19 and work-based learning circumstances.
It's hard, for instance, to see how you would assess character formation at a college of an apprentice they only see once a week on day-release? Also, how can you can reasonably sample what a large college does in many different locations? I don't quite see in that inspection framework how you would have a proper way of understanding responsiveness to local economic need and I don't see that Ofsted has the expertise currently to make those kinds of assessments.
How do you assess the relationship between Leps and colleges?
All but, I would say, two Leps — and I'm not going to name the two — are now engaged with their colleges. The way in which they are engaged is different in every place. I'm much happier now that Leps are engaged with colleges.
We've now got to talk about the quality of that engagement and the quality of the conversations they're having on both sides. I think without trying to lay down one model, I am interested in the notion of outcome agreements between colleges and their
Leps, but I'd prefer that come from the college to say 'This is what we're proposing to do with the monies we have been allocated by government, does this seem right to
you? Are there things you think we ought to be adjusting the mix around?'
Main pic Martin Doel outside the AoC's central London HQ