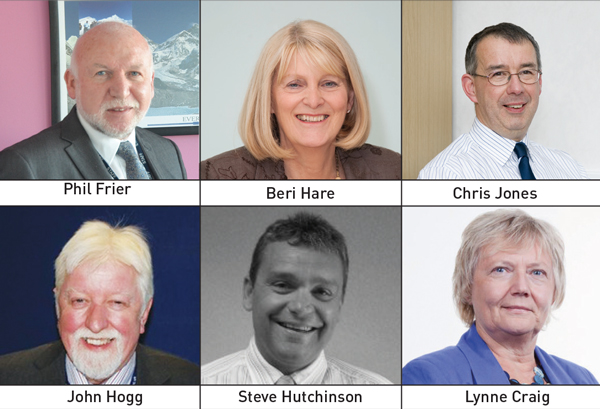 These are the five former principals and one ex-vice principal that make up the new intake of advisers for FE Commissioner Dr David Collins (pictured front), FE Week can reveal.
Phil Frier, Dr Beri Hare, John Hogg, Steve Hutchinson, Chris Jones and Lynne Craig have won posts at the commissioner's office.
Their appointments take the total number to advisers to 11, with existing advisers David Williams, Joanna Gaukroger, Marilyn Hawkins, Malcolm Cooper and Lynn Forrester-Walker.
The appointments continue with Dr Collins's focus on leadership, with all six of the new appointees having worked in principal or vice-principal posts, and at least three having worked in colleges where they were appointed to sort out problems with finances or quality.
Phil Frier led Park College Eastbourne, Sussex Downs College and City College Brighton before being appointed to head debt-ridden K College, which was broken up on his recommendation.
Dr Beri Hare, who currently lists herself on Linkedin as an educational consultant, was principal at Stroud College in Gloucestershire from 2006 until its merger with Filton College near Bristol in 2012. She was awarded the OBE for her services to further education in 2011.
Steve Hutchinson is a member of FE Associates and worked for a brief period as interim principal at K College, succeeding Mr Frier. He was a senior education advisory manager for KPMG and a regional finance director for the Further Education Funding Council for England in the late 1990s.
Chris Jones has been principal at Calderdale College in Yorkshire since 2006, and will continue in the role until early
next year. He is currently chair of the Leeds City Region Skills Network and is a former director of finance and corporate services at The Sheffield College.
John Hogg has been principal at Middlesborough College, Wolverhampton City College and, more recently, worked at City College Coventry, where he was appointed in July last year after an inadequate rating from Ofsted. He was succeeded five months ago by
Steve Logan.
Lynne Craig was vice-principal at Gloucestershire College before setting herself up as a freelance education consultant.
She was previously on the council of the Learning and Skills Improvement Service (LSIS) and an inspector with the Adult Learning Inspectorate.
The roles were advertised at a rate of £600 a-day, along with a prediction of 60 to 80 working days a-year for each adviser.