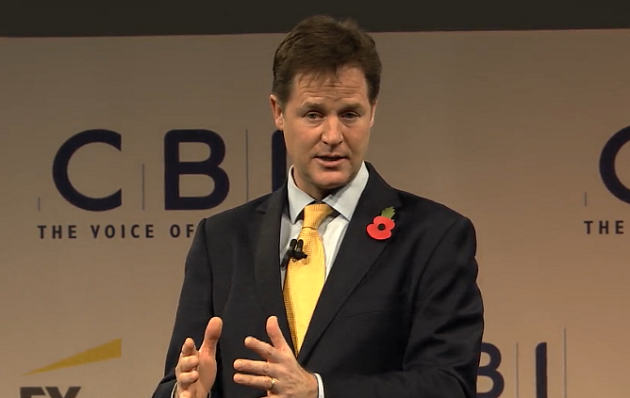 The Deputy Prime Minister today announced "revolutionary" plans for a UCas-style vocational database for 16 to 18-year-olds — but UCas said the service already existed.
Nick Clegg (pictured) told visitors to the Skills Show, at Birmingham NEC, the government would set up a "fully-comprehensive national database" of post-16 skills and employer led-courses and opportunities in England from September next year.
However, UCas chief executive Mary Curnock Cook responded by pointing out that UCas Progress, its service for post-16 choices, had been expanded and "now offers national coverage of vocational and academic courses in England and Wales".
She said: "We have more than 100,000 courses through 4,550 different providers listed in England and Wales and are already registering over 2.5 million page views per month. Our information, advice and guidance pages received 350,000 views alone.
"This service builds on UCas's 50 years of experience running a national service for higher education and is free of charge for learners. Young people today want to use digital interfaces to support their learning choices and that is UCas' core business."
The UCas Progress website says its "search service will be national from September 2014 and free to use for young people, and the application system is available in some areas, depending on whether local authorities, or those offering post-16 options, have made it available for people in their area".
It is not the first time Nick Clegg has spoken of the need for a service and been rebutted by UCas.
Head of progress at the UCas Gina Bradbury claimed in an article for FE Week, published after Mr Clegg first mentioned the idea in February, that it was something UCas had launched 18 months previously.
Mr Clegg said today: "While it is truly exciting to be able to celebrate the tide turning with wider-ranging opportunities for our school leavers aside from university, we also need to do more to show young people all of the doors open to them.
"By giving every 16-year-old access to a one stop shop for the growing number of choices they have, more young people will be able to access the options available to them and make better informed choices about their career paths."
The announcement was welcomed by the Association of School and College Leaders' general secretary, Brian Lightman, who said: "It is good to see that vocational courses are starting to have the profile they deserve. The new database is a step in the right direction.
"Young people need access to information about all the choices available to them at age 16 but they also need guidance to help them make an informed decision. This means that effective careers education and information, advice and guidance are more important than ever."
But Fiona Aldridge, assistant director for development and research for the National Institute of Continuing Education, said: "It's important that young people and adults of all ages have access to good quality and up-to-date information of what's available. They also need access to good quality advice and guidance to ensure they're getting the right training for the career they want.
"If this is implemented then we think it's essential that there is an all-age approach to this rather than just a focus on those aged 16 to 18."
At today's event, Mr Clegg also announced 12 new social mobility business compact champions — Accenture, Aspire Group, Baker & McKenzie LLP, The Co-operative Food, Deloitte, EY, Grant Thornton UK LLP, KPMG LLP, Linklaters, Mears Group, Standard Life and Telefónica O2. The social mobility business compact was launched in 2011 by Mr Clegg.
Social mobility and child poverty commission chair Alan Milburn said: "As our recent State of the Nation report showed, access to the top jobs in Britain is still too often determined by your social background rather than your ability, which is why I welcome today's launch of the Champion tier of the Social Mobility Business Compact as an important step forward with Government and employers coming together to change things.
"Twelve leading employers and chief executives from a range of different sectors are committing to making real changes, within 12 months, to make their businesses more social mobility friendly and demonstrate to others what can be done.
"I welcome the variety of sectors represented amongst this group, but challenge others, conspicuous by their absence — particularly in banking and engineering – to wake-up to the opportunities of a diverse and talented workforce."
See edition 118 of FE Week, dated Monday, November 17, for more FE and skills sector reaction to Mr Clegg's UCas proposal.
*FE Week and sister newspaper Academies Week are official media partners of the Skills Show.