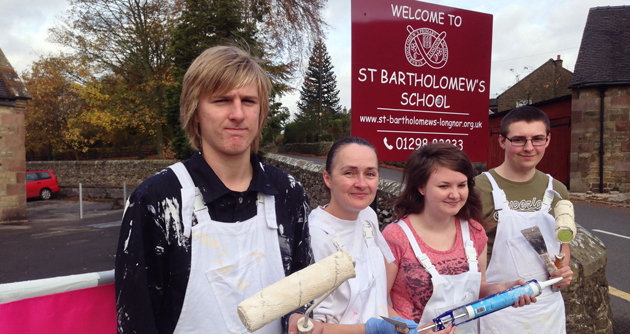 A run-down village primary school in the Peak District was redecorated by hard-working painting and decorating students from Buxton & Leek College, writes Paul Offord.
Tiny St Bartholomew's Church of England Primary School was looking well past its best, but budgets wouldn't stretch to hiring a professional decorator.
But its fortunes took a turn for the better following a chance conversation between Buxton & Leek College construction co-ordinator Jo McKechnie and bus driver Sam Garlick.
Mr Garlick drives college staff and learners from its Leek campus, in Staffordshire, to the Skillsbase Centre in Buxton, Derbyshire, where practical training takes place.
He told Mrs McKechnie during one of the journeys about the sorry appearance of the interior at the school in Longnor, Staffordshire, where his wife, Janet, works as receptionist.
She contacted the school, which was established in 1872 and only has nine pupils, to offer the services of level one painting and decorating students.
A team of four learners spent three days during the October half-term break painting all the school's interior doors in St Bartholomew's uniform burgundy colour and the walls of the corridors and head teacher Anne Collins's office magnolia.
"They also painted skirting throughout the school and office ceiling white.
Liam Bonsall, aged 16, said: "It was all dusty and pretty scruffy looking when we started and definitely needed repainting.
"We enjoyed doing it.
"I thought the school looked really good when we finished, which made me proud."
Destiny Tatton, 18, said: "I was a bit nervous when I first saw all the work that needed doing there.
"It was hard work and we worked 9am to 4pm every day. It was the first time I have worked full-time like that. I like decorating and find painting very relaxing.
"We had to fill the cracks in the walls in with filler and sand it down before painting over the top.
"We spoke to the school receptionist while we were working and she thanked us at the end."
Fellow students Jonathon Clowes, 16, and Georgia Wakefield, 17, completed the team of student decorators.
Mrs McKechnie said: "We were very happy to help. This is only the second [academic] year that we have taught painting and decorating and the school was our first community project.
"These students had only been coming to college for seven weeks when they started the project and they have worked really hard and done exceptionally well.
"I also helped out along with their tutor, David Percival.
"It's nice that it all came about from my chance conversation with our bus driver, who told us the school looked pretty shabby and needed redecorating.
"We plan to get some of our level two painting and decorating students to paint the school's three classrooms later this year."
The learners will round off the project before Christmas by creating a giant mural in the school's entrance lobby, which will include a tree that St Bartholomew's pupils will add to using their handprints to make leaves and by signing their name alongside it.
Mrs Collins said: "This was a wonderful opportunity for the college and school to work collaboratively.
"I am delighted that the children will have such a beautiful new learning environment and at the same time the college students are getting a real and valuable learning experience too.
"This collaboration enriches us all."
Picture caption: from left: Student Johnathan Clowes, construction co-ordinator Jo McKechnie and student Destiny Tatton and Liam Bonsall