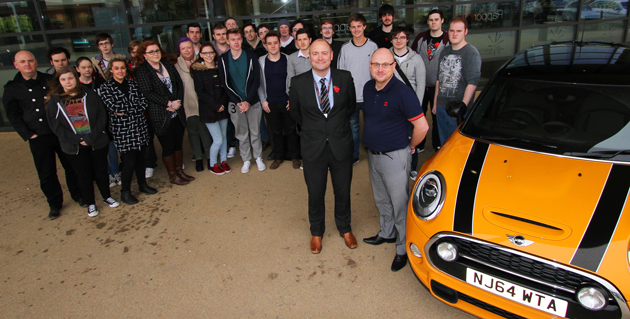 Poster designs created by Hartlepool College of FE learner Andrew Gibson will be used for a national campaign to promote the new Mini Cooper five-door.
A number of of foundation degree design for creative industry students were challenged by Mini UK to come up with poster ideas and Mini-themed gifts to promote the new model. Their gift ideas comprised of Mini adventure smart phone apps, treasure hunts and interactive posters.
Posters designed by learner Andrew Gibson, aged 20, which featured slogans such as 'More adventurous than that guy with the hat and the whip' and 'More space inside than a time travelling police box', impressed the car manufacturer's bosses so much that they will be used as part of a national advertising campaign.
Andrew said: "I'm humbled and honoured to have been selected as the winning designer and can't wait to see my artwork in a live digital and printed campaign."
Project leader and design lecturer Michael Thompson said: "It's an unbelievable opportunity for students, working with such a high profile client like Mini UK, an opportunity which most commercial creative agencies would envy.
"Andrew followed a more quirky concept with his campaign ideas, which work well with the Mini brand."
Picture caption: Hartlepool College principal Darren Hankey and Mini brand manager Billy Upton (front row left and right) with students by a new Mini Cooper five-door