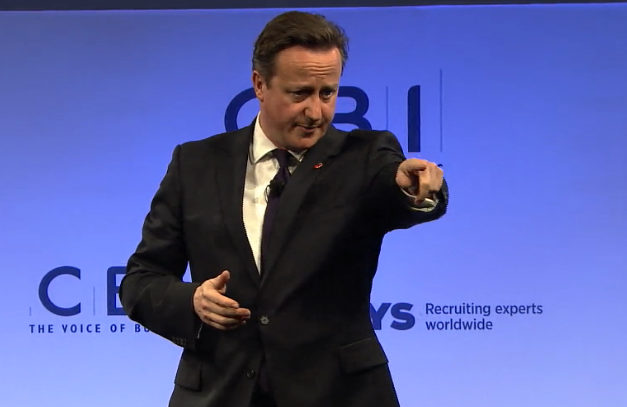 Prime Minister David Cameron renewed his commitment to lifelong learning in England in a speech to business leaders.
Mr Cameron, pictured above, spoke about the importance of continuing education when he spoke at the annual conference of the Confederation of British Industry (CBI) yesterday.
"The idea that you go to school, go to college, get a degree and stop learning and start working, that is old think[ing]. From now on, everyone is going to be thinking of how to continuously increase your skills through your life," he said.
"That is why I think some of these apprenticeship programmes are so exciting and I think where we need schools and some teachers to change their opinions about them, because a lot of apprenticeship programmes now are about earning and learning, including all the way up to and beyond degree level.
"I think encouraging that through our workforce is going to be absolutely vital."
His comments have been welcomed by the National Institute of Adult Continuing Education (Niace), whose chief executive, David Hughes, said: "It is encouraging to hear the Prime Minister speak in such glowing terms about the importance of lifelong learning. I liked his emphasis that
the old way of thinking – that you stop learning once you've started work is now gone.
"Today 'everyone needs to develop and improve their skills throughout their lives' is how everyone should be thinking to ensure they have the knowledge and skills for a long and fulfilling career and for life.
"Employers have a huge role to play here. Where businesses invest in training for their staff, they not only get to fill skills gaps and skills shortages, but they also improve productivity, lower turnover of staff and increase morale.
"However, far too many businesses do not make that investment in training, which has serious consequences for sustainable economic growth, especially with 13.5m vacancies expected over the next 10 years, but only 7m new labour market entrants to fill those roles."
Labour leader Ed Miliband and Deputy Prime Minister Nick Clegg also spoke at the conference.
While Mr Miliband said that a "revolution" was needed in vocational education to deal with a "discontent" among the British public, Mr Clegg spoke about the need for good careers advice and guidance, and hinted there had been arguments in government about the future after Connexions closed.
Mr Miliband said: "If we win the election, our focus will be on a revolution in vocational education and apprenticeships. Again this is an agenda where we have learned so much from you, as I say, from the CBI. It's about new gold-standard technical qualifications in schools, so 14-year-olds know what they're aiming at.
"It's about proper work experience and careers advice for all our young people. It's about university expansion through technical degrees designed by businesses like yours and it's also about giving you for the first time a real opportunity to decide how the public money for training is spent. Creating jobs, giving hope to our young people, will, I believe, help to address the discontent people feel."
Mr Clegg said: "One of the mistakes we made as a government was that we got rid of the Connexions service, for good reason, because it
simply wasn't doing what it was supposed to. But then, candidly, there was quite a long debate, which is a polite way of putting it, in government about exactly what we'd do next.
"There were some voices in government which didn't want to do anything next, wanted it to be left to the market so to speak, and people like myself said 'of course government has a role in setting a direction for what quality careers advice and guidance looks like."
It comes after the CBI used the publication of its latest report to call for colleges to be rewarded for specialism.
In its report A better off Britain: improving lives and making growth work for everyone, published on Monday, the employer body also called for more learners to complete level four apprenticeships and vocational qualifications.
John Cridland, director general of the CBI said: "We need to refocus the system and refocus the recognition and reward in the system, so that the colleges who are boldest in making sure they're provision is specialised and is fit for purpose are the ones who are rewarded."
See FE Week edition 118, dated Monday, November 17, for more.