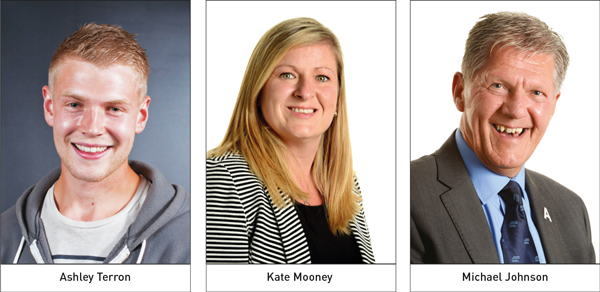 One of these three former learners will be crowned apprentice champion of the year at the Skills Show in Birmingham on Thursday (November 13).
Ashley Terron, Kate Mooney and Michael Johnson are all contenders to be recognised as the person who has made the biggest contribution to promoting apprenticeships at the National Apprenticeship Awards.
All three have battled it out in the regional finals, with Ashley representing the North West, Kate representing London, and Michael representing the East Midlands.
National Apprenticeship Service director Sue Husband said: "The City & Guilds Apprenticeship Champion of the Year category is always hotly contested at the awards and this year proves no different.
"Kate, Michael and Ashley are exceptional ambassadors for apprenticeships both within their own workplaces and beyond.
"I hope their stories inspire others to find out how apprenticeships can help young people to get in and go far."
Bricklayer Ashley, who is employed by Redrow Group Services Ltd, won gold at the 2013 WorldSkills competitions in Leipzig and since then has helped to promote apprenticeships through local, national and international media.
Kate completed an apprenticeship in business administration in 1996 and now leads the design of British Telecom's apprenticeship programme as well as helping to develop training across the telecommunications sector.
Michael left school unqualified and became an apprentice with broadcast technology company Rediffusion.
He is now training and development manager for construction company Gelder Group and sees himself as an ambassador for apprenticeships.
The apprentice champion award is sponsored by City & Guilds.
The UK managing director of City & Guilds, Kirstie Donnelly, said: "It's fantastic to recognise the achievements of these finalists.
"They are true examples of just how far apprenticeships can take you.
"I'm confident they will continue to inspire others, and I wish them the very best of luck."
The apprenticeship awards will also see awards given out to apprentice of the year for intermediate, higher and advanced apprenticeships and apprentice employer of the year.
You can see the nominees for these categories on the front page and find out who the winners were in next week's edition of FE Week, edition 118, dated Monday November 17.