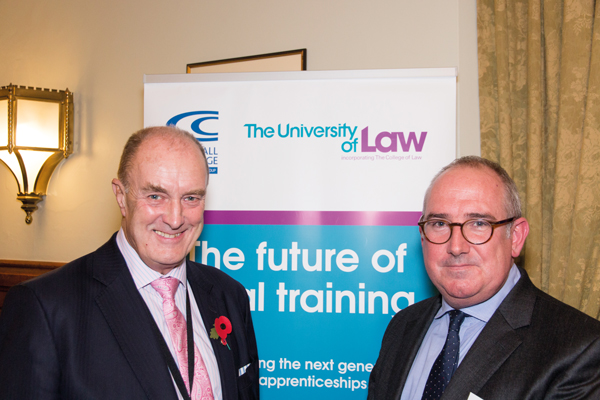 New vocational routes into the legal profession have been opened up after a partnership between FE colleges and a sector university was launched.
Five FE colleges have teamed up with the University of Law (ULaw) to offer intermediate, advanced and higher apprenticeships in legal services, including one programme which allows learners to become solicitors within six years of flexible training.
Through existing apprenticeships, learners can become apprentice legal assistants and apprentice paralegal officers, among other roles, but the new partnership will expand the offer available to those seeking to avoid a traditional university route.
The partnership was launched at an event at the House of Commons on Monday (November 3) where it won praise from senior MPs including government apprenticeship ambassador Gordon Birtwistle and Shadow Attorney General Emily Thornberry.
Birmingham Metropolitan College, City and Islington College, Cornwall College, Sunderland College and Walsall College are all involved in the partnership, which will see apprenticeships accredited by City & Guilds and the Chartered Institute
of Legal Executives.
The event also saw the launch of an articled apprenticeships programme, a six-year route to becoming a solicitor combining a period of recognised training with study.
Mr Birtwistle said he was "pleased and impressed" with the programme. He added: "I myself trained as an apprentice engineer and I feel very proud of this new partnership. Apprentices are our nation's best secret.
"As the workforce of the future, the legal profession will only be enriched by their contribution."
Birmingham Metropolitan College principal Andrew Cleaves said: "The college is carving a niche in delivering employer-led programmes tailored for the region's business and professional services sector and the partnership with ULaw will enable us to develop our programme further."
Cornwall College deputy chief executive Raoul Humphreys said: "Our partnership allows us to combine our knowledge, resources and experience, and demonstrate our shared vision and beliefs, to deliver the best possible outcomes for apprentices and employers."
City and Islington College centre for lifelong learning director Grant Glendinning said: "We are delighted to be part of cultivating this hugely beneficial partnership.
"It offers new possibilities to enhance the route to a career in law, for those who may not previously have thought they could enter it, through exceptional programmes of shared academic expertise; and through pioneering, innovative apprenticeships, new ways for employers to fill skill gaps through expert training, for both new and existing staff."
Dr Lynne Sedgmore, executive director of the 157 Group, also welcomed the launch, adding that it would give students and apprentices "the opportunity to kick-start their legal careers".
She added: "The colleges involved are the acknowledged experts in the delivery of high-quality apprenticeships; the University of Law has the reputation, legal expertise and relationships with legal employers. For both students and apprentices, it is a win-win."
Main Pic: Gordon Birtwistle MP and John Latham, from ULaw