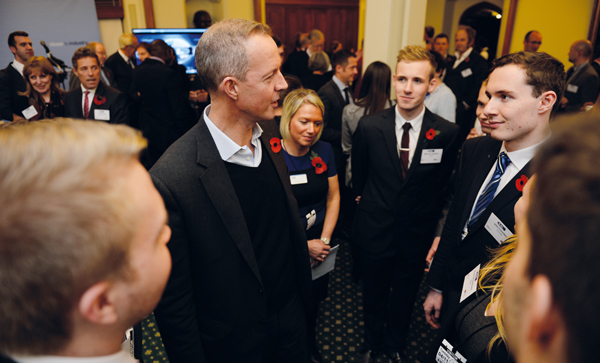 Business Secretary Vince Cable has admitted that continuing with controversial plans to demand employer cash contributions for apprenticeships would be "difficult".
In an exclusive interview with FE Week following an Industry Apprentice Council (IAC) reception at the House of Commons on Tuesday, Dr Cable indicated it was unlikely the reforms would go ahead as currently proposed — with a plan for employers to pay up to a third of the cost of training.
His comments come after Skills Minister Nick Boles also hinted that the contributions could be scrapped in an interview last month.
Dr Cable said: "I think there would be difficulty proceeding with the particular proposal that we had.
"If we are going to have more apprenticeships then there's got to be contributions from the government and the employers, and the question is how we find a model which makes that work for business as well as for young people getting into a vocational trade."
But, asked if a decision had been made to scrap employer contributions, he said: "Not quite."
He added: "It's not in the form that we originally envisaged.
"The pilot studies are still going ahead and we have been listening to the criticisms from small companies about not having more bureaucracy and obviously we want to have an arrangement which creates more apprenticeships rather than less, so we are having a fresh look at the whole issue."
At the event, guests heard from apprentices about how vocational learning had improved their prospects.
John Coombes, aged 21, a third year advanced engineering apprentice with Ford, said: "While in sixth form, having been accepted into university, I found myself offered a great opportunity with Ford to do an engineering apprenticeship.
"I thought I was incredibly fortunate, but that wasn't really shared in the opinions of the people around me. My teachers and peers seemed to think I'd taken a lesser route and expected better of me."
IAC member Anna Schlautmann, 21, a fourth year logistics apprentice at MBDA, said: "The only option my college gave me during my A-levels was to go to university.
"A lot of my peers and my teachers weren't very happy with my decision, for example, telling me: 'I thought you were clever'. I said: 'yes, I am clever, and that's why I'm an apprentice'."
Main Pic: Skills Minister Nick Boles with apprentices including John Coombes, far right