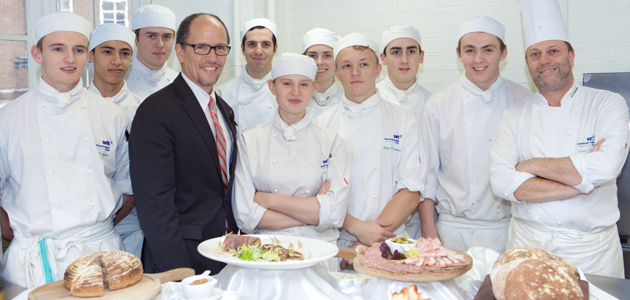 The United States (US) Secretary of Labour Thomas Perez learned about British vocational training at Westminster Kingsway College.
Mr Perez, who is responsible for US government legislation on apprenticeships, visited the college as part of a Europe-wide tour of FE providers.
He heard a talk about how FE works in this country, with particular focus on apprenticeships, from director of strategy and performance Caireen Mitchell and assistant principal and head of hospitality, business and enterprise Geoff Booth.
Mr Perez then visited a level two chef apprenticeship class in one of the college's 14 teaching kitchens.
Chef lecturer Simon Stocker said: "The visit highlighted the success that we continue to have in delivering apprenticeships.
"Mr Perez was interested in how our apprentices balance their time between work and study and the different employment routes that they are undertaking at some of the top hotels and restaurants in London."
Mr Perez said: "It was great to see apprenticeships in action and hear about the many graduates here taking their skills to top London restaurants."
Picture caption: US Secretary of Labour Thomas Perez (front row cenre left) with catering students