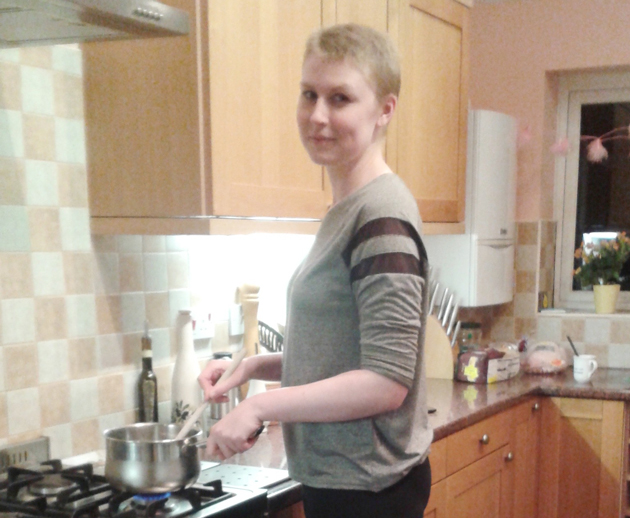 A teenager who blogs about her battle with cancer and also her favourite recipes has resumed her professional catering course at East Kent College after finishing chemotherapy, writes Paul Offord.
catering student and cancer sufferer Emily Mackay is determined to spread the word about how the disease affects teenagers.
The 18-year-old East Kent College level three learner was diagnosed a year ago with a rare type of bone cancer, called osteosarcoma, in her right thigh bone and the left saddle bone of her spine. She was forced to put her studies on hold while undergoing chemotherapy, but carried on developing recipes for a blog she launched in January called Cooking and Cancer.
She resumed her course in September after completing the treatment and represented the college last month at a fundraising event in Skipton, North Yorkshire, for the Ilkley Candlelighters charity, which supports research into children's cancers.
Emily helped top chef Steve Smith, from Freemasons gastro pub in Wiswell, Lancashire, which was ranked number one in the 2015 Good Food Guide's Top 50 UK Pubs, prepare dishes including heritage potatoes cooked in ham knuckle stock, crispy hen's egg and mushroom ketchup for the guests.
She said: "Returning to college and working with Steve was fantastic. It was inspirational hearing him explain how he came up with ideas for his dishes.
"I started the blog because I thought people weren't aware of how many young people are affected by cancer and it would be good to spread the word. A nurse told me the other day that seven teenagers are diagnosed in this country every day.
"I have always enjoyed cooking and writing about it helped keep me going. My dad, Graham, is a real foodie. He's my sous chef who helps me test out my recipes."
Emily said her lecturers were "brilliant" when she had to take a break from her course.
They organised a six-course fundraising meal and charity auction in her honour in April, which raised £5,000 for The Teenage Cancer Trust.
She said: "I didn't really know much about the cancer when I was diagnosed, so couldn't tell them much about how it was going to affect me. They we so supportive and just said 'come back when you are ready'."
Emily also spread the word about support available to cancer sufferers on prime time BBC One show Saints and Scroungers — which reports on benefits fraudsters and people who
deserve government help.
She was interviewed by presenter Matt Alwright for an episode screened last month about emotional and practical support she received from charity Cancer and Leukaemia in
Childhood (CLIC) Sargent.
Emily said: "I had previously said I would be happy to help with anything to advertise the charity and they emailed me to ask if I would be interviewed for the show. I was terrified but my mum, Karen, was interviewed too. I talked about the good advice CLIC Sargent gave me on care and financial support available to cancer sufferers.
"It was weird seeing myself on telly, but everyone said I did a good job so I was happy."
It represented another encouraging step forward in her battle with the cancer which has been cleared from her femur but is still in her spine.
She said: "My advice to other teenagers diagnosed with cancer is 'don't give up and don't let it get you down'. You have still got a life and just need to keep living it."
Visit cookingandcancer.wordpress.com to read Emily's blog.
Main picture caption: Emily Mackay pictured recently