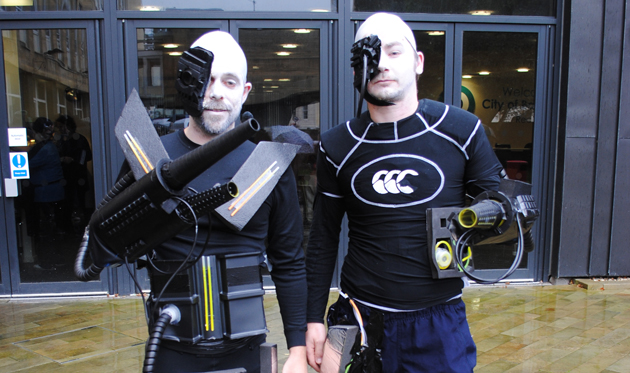 Bath city centre was invaded by aliens as students completed their third annual fundraising spacewalk.
More than 100 students from City of Bath College dressed as aliens from Star Trek, Star Wars and the Men In Black movies and a variety of other space creatures.
They collected £272 through selling doughnuts and collecting donations in buckets while passing tourist attractions including Bath Abbey, The Theatre Royal and Thermae Bath Spa.
The event was organised by the college's business, media and performing arts departments for the Off the Record charity which provides free and confidential support to young people with mental health issues.
Level three music tech student Nico Prommer, aged 18, said: "It was good to be able to do something for charity and everyone looked amazing."
Picture Caption: From left: Media lecturers James Purslow and Ed Powell dressed as Cyborgs from Star Trek