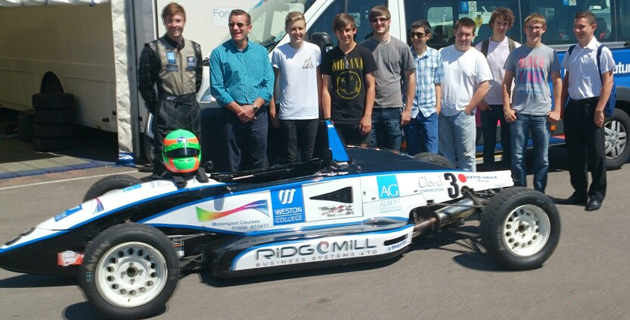 A racing car backed by Weston College finished second in its first season in the 1,600 Formula Ford series.
The car, which is sponsored by the college, was maintained throughout the season by motoring and engineering students.
Lead for the construction, engineering and automotive departments Steve Caldwell said: "Our first season in motorsport was really exciting. We are delighted that our driver Roger Orgee managed to secure a top two position in the championship. This partnership has seen our students work at close quarters with the Formula Ford racing team on race days and around the circuits.
"The car will now return to the college's new motorsport workshop. Paul Gavins, our curriculum lead for motorsport, and his students will analyse the season's performance and start to prepare the car for the 2015 season."
Picture Caption: Motoring and engineering students with the car