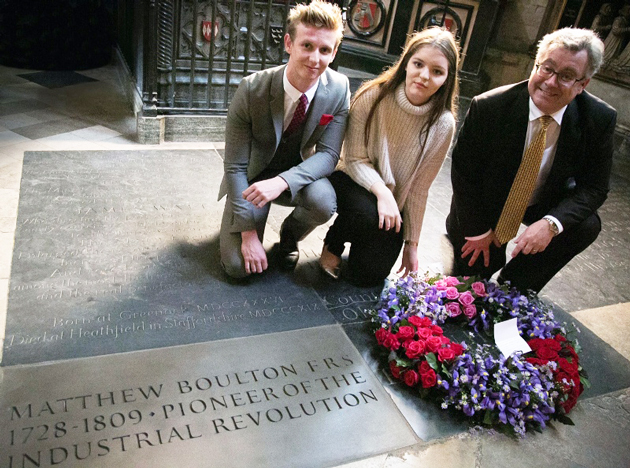 Learners unveiled a plaque at Westminster Abbey honouring 18th Century Birmingham industrialist Matthew Boulton.
A group of 11 Birmingham Metropolitan College students studying a range of science, technology, engineering and maths courses and senior staff including principal Andrew Cleaves travelled to London to attend a memorial service for Mr Boulton.
Level three pharmacy student Jacob Pearson, aged 19, and English, history and sociology A-level learner Ellie Coleman, 17, unveiled a plaque on the Abbey's floor in his honour.
Ellie said: "It was a great privilege to unveil a national memorial to one of Birmingham's leading entrepreneurs."
Birmingham-born Mr Boulton developed the Boulton & Watt steam engine, which drove up production rates at factories across Britain during the Industrial Revolution, with his business partner James Watt.
He also revolutionised minting techniques for British coins and features on the back of £50 notes with Mr Watt.
Mr Boulton's plaque was installed next to an existing plaque for Mr Watt.
Principal Andrew Cleaves said: "It was a pleasure for us to be involved in a ceremony which recognised the impact Birmingham had on the Industrial Revolution."
Picture Caption: From left: Birmingham Metropolitan College learners Jacob Pearson and Ellie Coleman and principal Andrew Cleaves by the plaque