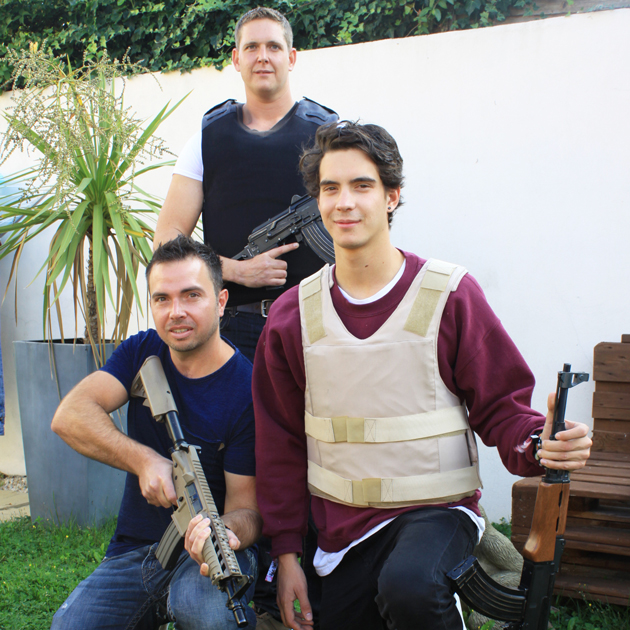 A former soldier who served in Afghanistan and Iraq has been recognised for research he did at Bournemouth & Poole College that could save troops' lives, writes Paul Offord.
Robert Lewis knows all about the shortcomings of the body armour worn by soldiers.
The 27-year-old, who joined the Army aged 16 after leaving school without any qualifications, wore the bulky and uncomfortable protective suits under his uniform during tours of duty in Bazra, Iraq, in 2005, and Helmand Province, Afghanistan, in 2007.
Robert left the Army five years ago and enrolled on an access to higher education science diploma at Bournemouth & Poole College in September 2013.
He had the idea of researching whether non-Newtonian fluids, which harden when they come into contact with solid objects, could be used in body armour for a three-month project that counted towards his studies.
Robert carried out a series of laboratory and practical tests at shooting range over three months with fellow students Paul Malonowskui, 38, and Nevy Baze, 20.
They proved that a combination of silicon and polyethylene glycol combined to make a gel could repel bullets and knife attacks.
Robert said: ""We were warned we were going to be given a special project. But there was nothing out of the options we were presented with that really excited me, so I asked if I could come up with my own idea and drew up the proposal overnight which they liked. I was interested in Newtonian fluids and thought to myself 'I wonder if it could be used for body armour?'
"We had to prove the concept was viable in the lab, but then did the tests by shooting at it in a firing range."
He added: "The substances we researched could be used instead of the metal or ceramics, making the armour a lot lighter and more flexible."
The research earned the trio special recognition from the Royal Society of Chemistry in London.
Anthony Wright, college director of adult education, said: "Rob went in harm's way for his country and that inspired him to apply some of the basic science he learned at the college in the context of a practical problem every soldier faces — how to get the best protection when under threat.
"People working in perhaps less stressful environments than Robert can now follow his example and to contribute to the science knowledge base in this way."
All three of the learners completed their college courses in June and have now started science degrees at Bournemouth University.
"My mum Jill is proud of me. She probably didn't think I was very academic after I left school without any qualifications, but thought the Army would sort me out," said Robert.
"My interest in science started in the Army. I was always fascinated with, for example, the measurements used to assess how to hit targets with artillery fire — you have to take into account things like trigonometry and the magnetic pull the earth has on shells."
Robert hopes to work in defence after he graduates from university.
He said: "I have been in contact with the Ministry of Defence about taking our research further so we will see.
"It would be nice to think our research could help protect soldiers one day."
Picture Caption: From left:  Paul Malonowskui, Robert Lewis and Nevy Baze